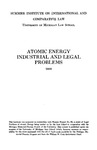 Files
Download Front Matter (195 KB)
Download Foreword (80 KB)
Download Table of Contents (43 KB)
Download Nuclear Reactor Developments (617 KB)
Download Radioisotopes - Production, Distribution, and Utilization (1.3 MB)
Download Electric Power Systems and Nuclear Power (598 KB)
Download Chemical Companies and Nuclear Power (417 KB)
Download The Canadian Atomic Energy Program (461 KB)
Download Labor-Management Relations in Atomic Energy Affairs (435 KB)
Download Problems of Source Material Mining and Supply (578 KB)
Download Progress Toward the Industrialization of Atomic Energy (492 KB)
Download Contract Policies and Procedures - New York Operations Office (380 KB)
Download The Office of Industrial Development - Contact Point for Industry (520 KB)
Download Problems of Patent Policy for Government and Industry in Atomic Energy (1.8 MB)
Download Security Maintenance in Industrial Enterprise (326 KB)
Download Effects of Radiation (1017 KB)
Download Compensation for Injury to Life or Property (1.3 MB)
Download The Michigan Memorial-Phoenix Project (437 KB)
Download The Joint Committee - Something New in Government (1.1 MB)
Download Panel Discussions (1.1 MB)
Description
Since 1948 the University of Michigan Law School has, as a part of its program of public service, sponsored a series of Summer Institutes, intended to provide a medium for high-level discussions of important problems in areas of public concern. The Institutes held in previous years are as follows:
The First Summer Institute, July 15-23, 1948, "Current Problems in International Law"
The Second Summer Institute, August 5-21, 1949, "Legal Problems of World Trade"
The Third Summer Institute, June 26-July 1, 1950, "The Law and Labor-Management Relations"
The Fourth Summer Institute, June 25-28, 1951, "Taxation of Business Enterprise"
The Fifth Summer Institute, held June 26, 27, and 28, 1952, was devoted to the industrial and legal problems arising in connection with peacetime utilization of atomic energy. Both lectures and panel discussions were arranged in order to emphasize specific problems. The Institute was planned primarily to serve executives and legal counsel of businesses which are engaged, or expect to be engaged, in activity involving atomic energy developments. Without attempting to reproduce the Institute proceedings in full, this volume makes available the papers which were presented dealing with atomic energy and its utilization, together with a limited portion of the panel discussions.
Publisher
University of Michigan Law School
Keywords
Summer Institute on International and Comparative Law, Atomic energy, atomic energy and private enterprise, private capital for nuclear power, Canadian Atomic Energy Program, Phoenix Project no. 30, Michigan Memorial-Phoenix Program, labor-management relations, atomic energy, radiation hazards
Disciplines
Comparative and Foreign Law | Nuclear Engineering | Science and Technology Law
Recommended Citation
University of Michigan Law School, "Lectures on Atomic Energy Industrial and Legal Problems" (1952). Summer Institute on International and Comparative Law. 6.
https://repository.law.umich.edu/summer_institute/6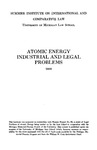 COinS