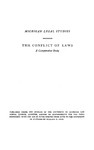 Files
Download Front Matter (57 KB)
Download Table of Contents (332 KB)
Download List of Abbreviations (508 KB)
Download Six: Corporations and Kindred Organizations; 18. Types of Organizations, Nationality, and Domicil (1.0 MB)
Download 19. The Personal Law of Business Corporations (1.3 MB)
Download 20. The Scope of the Personal Law of Corporations (918 KB)
Download 21. Unincorporated Business Organizations (1.1 MB)
Download 22. Recognition (1.7 MB)
Download 23. Doing Business (1.9 MB)
Download Seven: Torts; 24. The Principle (953 KB)
Download 25. The Scope of the Principle (1.6 MB)
Download 26. The Place of Wrong (1.2 MB)
Download 27. Maritime and Aeronautic Torts (667 KB)
Download Eight: Contracts in General; 28. Choice of Law by the Parties (Party Autonomy) (1.3 MB)
Download 29. Theories Restricting Party Autonomy (1.3 MB)
Download 30. Rules in Absence of Party Agreement (1.9 MB)
Download 31. Form of Contracts (1.2 MB)
Download 32. Scope of the Law of the Contract (1.1 MB)
Download 33. Public Policy (1.5 MB)
Download Bibliography (495 KB)
Download Table of Statutes and International Conventions (765 KB)
Download Table of Anglo-American Cases (1.0 MB)
Download Index (534 KB)
Description
Full application of comparative methods to the law of conflicts requires a working plan of some magnitude. We ought to take stock of the conflicts rules existing in the different countries of the world, state their similarities or dissimilarities, and investigate their purposes and effects. The solutions thus ascertained should moreover be subjected to an estimation of their usefulness, by the standards appropriate to their natural objective. Conflicts rules have to place private life and business relations upon the legal background suitable to satisfactory intercourse among states and nations. They are valuable to the extent that their practical functioning, rather than their legal appearance, serves this purpose.
To meet the challenge of this program with limited forces is a risky undertaking. Nevertheless it has to be attempted. The conditions of the law of conflicts are deplorable. It may be said, to the reader's and my own consolation, that the staggering provincialism apparent in the international family law presented in this volume is not equaled in other parts. But if conflicts problems have been cultivated by men of the highest erudition, idealism, and endeavor, they have also been the object of prejudice and dogmatism. Suggestions of almost all needed ideas may be found, but little agreement on a sound choice. The courts of this country dealing with a wealth of interstate cases have prevailingly shown sincere respect for foreign legislation and applied an accomplished method of comparative research. But this admirable attitude, which is the most outstanding model for the practice of private international law, suffers exceptions, and in the field of international relations throughout the world, despite enormous efforts, the simple truth that harmony presupposes mutual understanding and tolerance, has not prevailed in conflicts law more than in foreign affairs.
Publisher
The University of Michigan Press, Callaghan & Company
Keywords
Corporations, Business organizations, Legal persons, Conflicts law, Law of incorporation, Unincorporated business organizations, Contractual obligations, Maritime law, Aeronautic law, Party autonomy, Choice of laws, Lex causae
Disciplines
Business Organizations Law | Comparative and Foreign Law | Conflict of Laws | Contracts | Torts
Recommended Citation
Rabel, Ernst, The Conflict of Laws: A Comparative Study. Vol. 2. Ann Arbor: The University of Michigan Press, 1947.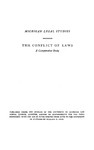 COinS