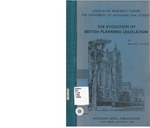 Files
Download Cover and front matter (244 KB)
Download Foreword - William J. Pierce (110 KB)
Download Table of Contents (82 KB)
Download Introduction (160 KB)
Download History of Planning (1.4 MB)
Download State and Local Government (1.1 MB)
Download Town and County Planning Act of 1947 (845 KB)
Download Town and County Planning Acts of 1953 and 1954 (633 KB)
Download Bibliography (78 KB)
Description
A part of the Legal Problems of Metropolitan Area Studies series by the Legislative Research Center of the University of Michigan Law School. Excerpt from the foreword by William J. Pierce, Director, Feb 2 1960:
This study, by Beverley J. Pooley, is the first in a series of monographs which will be published by the Center. It deals with the problems which have confronted British legislators and with the resultant Parlimentary enactments-- particularly in the post World War II era. This topic is necessarily broad, and therefore this monograph contains little detailed legal analysis of the various acts. Rather, the writer has presented a descriptive review for American readers, in which attention is focused upon the general nature of the problems and the theory of the legislation.
It might well be asked why this paper has been included in a research project whose main concern is the peculiar nature of the American metropolitan problem. We believe that, if our problems are to be solved within the framework of our democratic system, the efforts of another similar democracy to grapple with essentially similar difficulties merit our consideration. Naturally, the differences between British and American governmental organization, constitutional requirements, judicial power, and experience of governmental control of land use should be constantly borne in mind. These differences do not, however, make an understanding of the British experience valueless. On the contrarwe are afforded an opportunity to test the values of our own institutions by observing the recent history of a society which shares our fundamental democratic ideals but differs in some respects as to their optimum effectuation. If a thoughtful perusal of this paper either strengthens or weakens some of our beliefs, either change of attitude may help us to an acceptable solution of our own problems. Britain has produced a startlingly novel and ruthless solution to some of the problems of metropolitan living; we may resolve to follow the example, to utilize some of its features, or to reject it entirely; but it would be shortsighted indeed to ignore it.
Publisher
The University of Michigan
Keywords
municipal planning, Britain, state and local government in Great Britain, the Town and Country Planning Act of 1947, the Town and Country Planning Acts of 1953 and 1954
Disciplines
Comparative and Foreign Law | Land Use Law
Recommended Citation
Pooley, Beverley J., "The Evolution of British Planning Legislation" (1960). Michigan Legal Studies Series. 36.
https://repository.law.umich.edu/michigan_legal_studies/36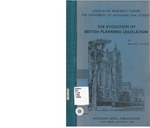 Included in
COinS