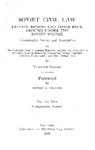 Files
Download Front Matter (840 KB)
Download Table of Contents (424 KB)
Download Part I: General Survey Chapter 1: Initial Stages of the Soviet Regime (1.2 MB)
Download Part I: General Survey Chapter 2: Present Stage: Political Organization (1.9 MB)
Download Part I: General Survey Chapter 3: Present Order: Economic (639 KB)
Download Part I: General Survey Chapter 4: Present Order: Social (1.4 MB)
Download Part I: General Survey Chapter 5: The Soviet Concept of Law in General (1.4 MB)
Download Part I: General Survey Chapter 6: Soviet Theory of Private Law: Sources of Law (1.7 MB)
Download Part I: General Survey Chapter 7: Role of the Judiciary (1.6 MB)
Download Part II: Special Topics Chapter 8: Discontinuity of Prerevolutionary Law and Vested Rights (1.6 MB)
Download Part II: Special Topics Chapter 9: Conditional Protection of Private Rights (1.5 MB)
Download Part II: Special Topics Chapter 10: Rights of Aliens and Foreign Corporations (1.0 MB)
Download Part II: Special Topics Chapter 11: Corporations and Other Legal Entities in Soviet Law (1.4 MB)
Download Part II: Special Topics Chapter 12: Contracts in General (1.3 MB)
Download Part II: Special Topics Chapter 13: Individual Contracts (1.5 MB)
Download Part II: Special Topics Chapter 14: Torts: Theory of Liability (1.3 MB)
Download Part II: Special Topics Chapter 15: Torts: Joint Liability; Damages (1.5 MB)
Download Part II: Special Topics Chapter 16: Property (2.6 MB)
Download Part II: Special Topics Chapter 17: Inheritance Law (1.6 MB)
Download Part II: Special Topics Chapter 18: Presoviet Agrarian Legislation (1.2 MB)
Download Part II: Special Topics Chapter 19: The Development of Soviet Agrarian Legislation (1.5 MB)
Download Part II: Special Topics Chapter 20: The Collective Farm (1.8 MB)
Download Part II: Special Topics Chapter 21: Private Farming of the Household within the Collective Farm (931 KB)
Download Part II: Special Topics Chapter 22: Labor Law (1.8 MB)
Download Part II: Special Topics Chapter 23: Courts and Civil Procedure (1.5 MB)
Download Part II: Special Topics Chapter 24: Appeals and Reopenings (1.3 MB)
Description
For centuries, jurisprudence has
been built up and developed in terms of a more or less
comparable body of concepts: family, private ownership,
individual rights, and the State, the necessity of
which was challenged in the original program in the
name of which the soviet government assumed the
reins of power. What then is the fate under the soviet
regime of the legal concepts thus far operative in all
civilized societies?
This book seeks to offer material for the answer to
questions of this nature. The principal aim of the author
has been to inquire into the legal protection and actual
exercise of private rights in the Soviet Union, on the
basis of an examination of the authentic soviet sources.
Extensive quotations from these sources in the discussions
in Volume I and full translations of major codes
and other enactments in Volume II are intended to help
the reader to form his own opinion and to check the conclusions
of the author.
Publisher
University of Michigan Law School
Keywords
Civil Procedures > Soviet Union, Civil Law > Soviet Union
Disciplines
Civil Law | Civil Procedure | Law
Recommended Citation
Gsovski, Vladimir. Soviet Civil Law: Private Rights and Their Back-Ground Under the Soviet Regime Comparative Survey and Translation of the Civil Code; Code of Domestic Relations; Judiciary Act; Code of Civil Procedure; Laws on Nationality, Corporations, Patents, Copyright, Collective Farms, Labor; and Other Related Laws. University of Michigan Law School, 1948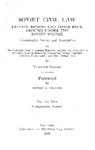 Included in
COinS