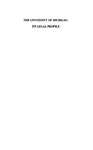 Files
Download Frontmatter, Forward, Capsule History of the University of Michigan, and Table of Contents (421 KB)
Download Chapter I: The Early History of the University and Subsequent Changes Made by Constitutional Conventions (909 KB)
Download Chapter II: Homeopathy and the Judicial Interpretation of the 1850 Constitution (1.4 MB)
Download Chapter III: Constitutional Autonomy of the University Since the Homeopathic Cases (3.2 MB)
Download Chapter IV: The Board of Regents (1.0 MB)
Download Chapter V: State Financial Support (1.5 MB)
Download Chapter VI: Eminent Domain (939 KB)
Download Chapter VII: The University Medical Center and Sovereign Immunity (1.8 MB)
Download Chapter VIII: The University and Local Government: Zoning and Property Taxes (804 KB)
Download Chapter IX: University Property and Business Contracts (953 KB)
Download Chapter X: The Faculty and Employees (1.4 MB)
Download Chapter XI: Students (559 KB)
Download Appendices (224 KB)
Download Table of Cases (271 KB)
Download Index (182 KB)
Description
Inspiration for the preparation of this volume came from reading two sections of Volume I of the four-volumes published in 1942 entitled, The University of Michigan-An Encyclopedic Survey. One section by E. Blythe Stason, Dean Emeritus of the University's Law School, is captioned "The Constitutional Status of the University of Michigan." The other section captioned "The Organization, Powers and Personnel of the Board of Regents" was prepared by the Dean and the late Wilfred B. Shaw, long connected with the University in important administrative capacities and intimately acquainted with its history.
The material here presented duplicates in part that contained in these two sections. It is intended to be more specific and, in some respects, it is much more expansive. Moreover, it speaks of developments since the year 1942 when the survey was published.
If occasionally it has value to those charged with administering the affairs of the University and educational institutions of similar constitutional posture, the efforts in publishing this volume will be well rewarded.
Publisher
University of Michigan
Keywords
University of Michigan, University of Michigan Law School, Michigan, Law schools, Colleges and universities
Disciplines
Education Law | State and Local Government Law
Recommended Citation
Cudlip, William B. The University of Michigan: Its Legal Profile. Ann Arbor: Univ. of Michigan, 1969.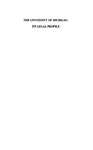 COinS