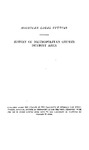 Files
Download Frontmatter, Foreword, and Preface (321 KB)
Download Table of Contents (334 KB)
Download Chapter I: Scope and Purpose of the Survey (1.1 MB)
Download Chapter II: Jurisdiction of Courts in the Detroit Metropolitan District (897 KB)
Download Chapter III: Organization of Courts in the Detroit Metropolitan District: Judicial Personnel (1.8 MB)
Download Chapter IV: Organization of Courts in the Detroit Metropolitan District: Attorneys and Juries (772 KB)
Download Chapter V: Organization of Courts in the Detroit Metropolitan District: Administrative and Clerical Personnel (2.4 MB)
Download Chapter VI: Machinery for Handling Dockets and Disposition of Case Load (890 KB)
Download Chapter VII: Operative Relationships Among Various Courts and Law Enforcement and Welfare Agencies in the City of Detroit (1.8 MB)
Download Chapter VIII: Summation and General Conclusions (89 KB)
Download Appendices (352 KB)
Download Bibliography (389 KB)
Download Index (622 KB)
Description
It has long been recognized that the social problems of the city are something more than a mere multiple of the social problems of the rural community. The bigness of the metropolitan area breeds its own difficulties, which find no counterpart outside its borders. Only recently, however, have experts begun to suggest that this same uniqueness inheres in the problems of the organization of metropolitan courts.
Should the organization of the metropolitan court system differ from court organization elsewhere? How should it differ? Before these questions can be answered, we must know something of existing court organizations in metropolitan areas and of the manner in which they operate. It was for the purpose of securing this necessary background of information that the present study of the Detroit area was undertaken. It proposes to answer this question: What is the judicial organization of the Detroit area, and how does it function?
Publisher
University of Michigan Law School
Keywords
Detroit, Michigan, Metropolitan courts, Court systems, Cities, Statistics, American Bar Association, Judicial administration, Municpalities
Disciplines
Courts | State and Local Government Law
Recommended Citation
Maxine Boord Virtue, Survey of Metropolitan Courts: Detroit Area. Ann Arbor: The University of Michigan Law School, 1950.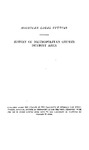 Included in
COinS