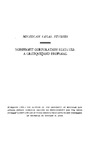 Files
Download Front Matter (69 KB)
Download Foreword and Preface (117 KB)
Download Table of Contents (42 KB)
Download Part One: A Critique; 1. The Need for Reform (346 KB)
Download 2. Cooperatives (1.8 MB)
Download 3. Nonprofit Corporations Generally (1014 KB)
Download 4. Fraternal, Religious and Particular Types of Corporations (1.3 MB)
Download 5. Cemetery and Related Corporations (224 KB)
Download 6. In Retrospect (83 KB)
Download Part Two: A Proposal (4.9 MB)
Download Bibliography (149 KB)
Download Table of Statutes (249 KB)
Download Table of Cases (130 KB)
Download Index (342 KB)
Description
The nonprofit corporation has become an important factor in the social and economic life of the American people. The American predisposition to organization and affiliation has led to an enormous number of such organizations, which in itself is a significant factor. Further, many nonprofit corporations have become national and international entities yielding tremendous economic and political influence. In spite of these factors, however, these organizations have largely escaped the serious study and academic analysis so generously bestowed upon the regular business corporation. This study is directed at an analysis of the legal framework within which such organizations operate. Its aim is to ascertain the sufficiency of the corporation statutes in view of nonprofit organizational operations, and to suggest appropriate changes. Controversial policy considerations concerning the wisdom of particular purposes, functions, or policies are not considered. The goal herein is simply a stimulation toward the achievement of an adequate, coherent, and logical code of nonprofit corporation statutes. The regulation of anti-social or undesirable activity is an additional problem beyond the scope of this study.
Publisher
University of Michigan Law School
Keywords
Law reform, Michigan General Corporation Act, Nonprofits, Fraternal organizations, Religious organizations, Cemeteries
Disciplines
Legislation | Nonprofit Organizations Law
Recommended Citation
Boyer, Ralph E. Nonprofit Corporation Statutes: A Critique and Proposal. Ann Arbor: University of Michigan Law School, 1957.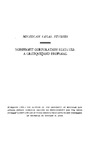 Included in
COinS