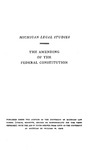 Files
Download Front Matter (28 KB)
Download Foreward by Henry M. Bates (215 KB)
Download Preface (102 KB)
Download Table of Contents (42 KB)
Download Table of Cases (243 KB)
Download Article Five of the Constitution of the United States (22 KB)
Download Chapter I: The Genesis of Article Five (211 KB)
Download Chapter II: Judicial Review of the Validity of Amendments (1.1 MB)
Download Chapter III: The Procedure for Amending the Federal Constitution (1.7 MB)
Download Chapter IV: The Scope of the Federal Amending Power (1.7 MB)
Download Chapter V: Sovereignty and the Federal Amending Clause (1.6 MB)
Download Chapter VI: The Reform of the Amending Clause (2.0 MB)
Download Bibliography (326 KB)
Download Index (256 KB)
Description
MOST treatises on constitutional law dispose of the federal amending clause in summary fashion. The commentators have thought fit to stress chiefly the division of authority between the federal government and the states. They have attached a high degree of significance to the dogma of separation of powers. A great deal of attention has been devoted to the doctrines of judicial review, the supremacy of the Federal Constitution, and the Bill of Rights. The taxation and the commerce clauses have come in for their full share of consideration. In recent years extensive studies have been made of the due process clause of the Fourteenth Amendment. As a result, the amendment clause has almost been lost sight of. No monograph on Article Five has been published prior to the present book. Yet when one stops to realize that the subjects just referred to have to do only with the existing distribution of powers, and that the operation of the amending power may bring about a complete reshuflling of the Constitution, it becomes obvious that one is dealing with a power of a higher grade and of more potential importance than any other power provided for in the Constitution.
One may approach the study of the amending clause from at least three different points of view: from that of constitutional law, from that of jurisprudence and legal philosophy, and from that of political science and legislation. From the standpoint of constitutional law the genesis and justiciability of the power may be considered; the procedure of amendment may be examined in detail; and the scope of the amending power may be analyzed. From the point of jurisprudence, the relation of the amending power to the concept of sovereignty may be developed. Finally, from the standpoint of political science and legislation, the reform of the amending process itself may be made the basis of investigation.
Publisher
University of Michigan Press
Keywords
Constitution, Article V, Judicial review, Constitutional amendments, Sovereignty, Amending Clause, Congress, Ratification
Disciplines
Constitutional Law
Recommended Citation
Orfield, Lester Bernhardt. The Amending of the Federal Constitution. Ann Arbor: University of Michigan Press, 1942.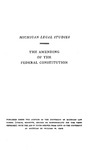 Included in
COinS