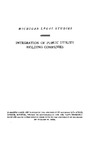 Description
The Public Utility Holding Company Act of 1935 was one of the most controversial pieces of legislation ever enacted by Congress, but despite this fact it has withstood numerous and vigorous attacks upon its constitutionality and, further, it has never been amended in any material respect. The Securities and Exchange Commission was confronted in 1935 with one of the most difficult administrative tasks in modern history. How it met and resolved the difficult problems of geographical and economic integration, arising under the so-called "death sentence" provisions of this Act, is the subject matter of this publication.
The research involved in the preparation of this book included the examination and study of the legislative history of the Act, contemporaneous legal, economic and political comment, all court decisions concerning the problem of integration, and all of the official releases of the Securities and Exchange Commission issued under the Public Utility Holding Company Act of 1935, through release number 11606 dated November 28, 1952. All decisions of consequence issued by the Commission pertaining to integration are cited herein. As of this date the U.S. Government Printing Office has published only twenty volumes of the Commission's decisions, the latest release published therein being dated October 12, 1945. Consequently, citations to releases after this date can only refer to release numbers and their dates. For convenience in referring to releases which do not appear in the bound volumes, the exact dates of such releases have been included in the footnotes. The Securities and Exchange Commission decisions included in the bound volumes are set forth in chronological order and releases published in such volumes in the future may therefore be readily located by the date reference.
All of the illustrative maps were taken from official Securities and Exchange Commission releases. The enclosures indicating the extent of integrated systems on these maps have been added for the purposes of this book, however.
Publisher
University of Michigan Law School
Keywords
Public utility holding companies, Public Utility Holding Company Act of 1935, Securities and Exchange Commission, Utility systems, Integration, Electric utility systems, Gas companies, Water works, Power companies, Lights, Public services, Investments
Disciplines
Antitrust and Trade Regulation | Business Organizations Law | Energy and Utilities Law | Securities Law
Recommended Citation
Ritchie, Robert F. Integration of Public Utility Holding Companies. Ann Arbor: University of Michigan, 1954.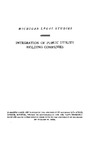 COinS