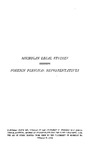 Files
Download Front Matter (69 KB)
Download Foreword and Preface (127 KB)
Download Table of Contents (132 KB)
Download I. The Personal Representative (3.2 MB)
Download II. Capacity of a Foreign Personal Representative to Sue (1.9 MB)
Download III. Liability of a Foreign Personal Representative to be Sued (1.7 MB)
Download IV. The Foreign Personal Representative and Immovable Property (624 KB)
Download V. Collection of Assets by a Foreign Personal Representative (1.2 MB)
Download VI. The Unified Administration (946 KB)
Download Appendix A & B (381 KB)
Download Table of Cases (365 KB)
Download Index (171 KB)
Description
In dealing with the legal rules affecting foreign personal representatives, the author of the present monograph is to be commended for the lucid analysis in the following pages of the principal questions that an executor or administrator appointed in one state will encounter in the administration of a single estate on a multi-jurisdictional basis: his right to sue and liability to suit in other states, the effects of his extra-legal action outside the state of his appointment, and the possibilities of reforming existing laws so as to make feasible a system of single administration of decedents' estates. This analysis is preceded in the first chapter by a useful historical and comparative survey, summarizing the basic differences between the Civil Law system of universal succession and the Anglo-American system of divided administration and suggesting that the latter, as derived from the practice in the ecclesiastical courts, is in a sense an historical accident. Doubtless, the principle of the latter system that the management of a single mass of property should be divided, for official purposes, among as many jurisdictions as there may be in which property is found, owes its durability to the dispersion of authority in the field of private law within the United States and in the international sphere. But the principle is a source of practical difficulty that has inspired the important exceptions that have had to be introduced to secure a reasonable measure of adjustment in settling estates in a world governed by many territorial sovereigns. It is to the author's credit that he has not limited himself to careful consideration of these improvisations but has also constructively contemplated the needs of modern life that argue for the development of a unified system to administer estates that pass on death. This is a subject that obviously concerns every lawyer and everyone else.
Publisher
University of Michigan Law School
Keywords
Executors and administrators, Inheritance and succession, Civil law, Assets, Foreign personal representatives, Succession, Successors, Death, Inheritance, Immovable property, Chattels, Unified administration, Probate, United States, Lawsuits
Disciplines
Common Law | Comparative and Foreign Law | Estates and Trusts | Property Law and Real Estate
Recommended Citation
McDowell, Banks, Jr. Foreign Personal Representatives. Ann Arbor: University Michigan Law School, 1957.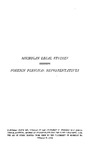 COinS