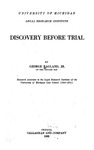 Title
Files
Download Front Matter (565 KB)
Download Foreword and Preface (766 KB)
Download Table of Contents (661 KB)
Download I. Inadequacy of Pleading as Basis of Preparation for Trial (2.0 MB)
Download II. Development of Discovery Procedure to Supplement Pleading (1.8 MB)
Download III. Preservation of Testimony by Means of Discovery (1.5 MB)
Download IV. Methods of Discovery in Different Jurisdictions (1.1 MB)
Download V. Types of Actions in Which Discovery is Available (1.5 MB)
Download VI. Respective Rights of Plaintiff and Defendant to Discovery (1.3 MB)
Download VII. Person from Whom Discovery May Be Had (1.9 MB)
Download VIII. Time of Discovery (1.6 MB)
Download IX. Initiating Step in Obtaining Oral Examination for Discovery (1.8 MB)
Download X. Place of Examination (1.4 MB)
Download XI. General Conduct of Oral Examination (1.5 MB)
Download XII. Examination by Written Interrogatories (1.0 MB)
Download XIII. Deciding Objections and Compelling Answers upon Oral Examination (1.6 MB)
Download XIV. Deciding Objections and Compelling Answers to Written Interrogatories (1.6 MB)
Download XV. May a Party Be Required to Disclose Evidence of his Own Case? (2.4 MB)
Download XVI. Application of Ordinary Rules of Evidence to Discovery Examinations (1.7 MB)
Download XVII. Penalties for Unjust Refusal to Disclosure (1.4 MB)
Download XVIII. Use at Trial of Record of Examination for Discovery (1.8 MB)
Download XIX. Cost of Discovery Examination (1.3 MB)
Download XX. Review of Rulings Made upon Discovery Examination (1.5 MB)
Download XXI. Discovery and Inspection of Documents (1.8 MB)
Download XXII. Examination of Property and Person (1.6 MB)
Download XXIII. Procedure for Obtaining Admissions (2.0 MB)
Download XXIV. Use of Discovery in Preparation of Trial Brief (1.3 MB)
Download XXV. Use of Discovery in Summary Judgment Practice (2.1 MB)
Download XXVI. Judicial Control of Pre-Trial Practice (2.1 MB)
Download XXVII. Advantages in Combining Discovery with Preservation of Testimony (786 KB)
Download XXVIII. Legislative Basis for an Adequate Discovery Procedure (1.0 MB)
Download XXIX. Contribution of Discovery to the General Administration of Justice (1.9 MB)
Download Appendix (3.4 MB)
Download Index (1.2 MB)
Description
The purpose of this volume is to present in a convenient and usable form a comparative study of the expedients which are being employed in various American and English jurisdictions for the purpose of facilitating pre-trial practice, to describe the practical operation of the different devices, and to show their effect upon the general administration of justice. An analysis of the statutory and case law has been combined with data which shows the practical operation of the procedure in the everyday work of the lawyer and judge. Field studies were made by the author in different cities of the following fourteen jurisdictions for the purpose of ascertaining the experience of the profession with each type of device which is being used: Indiana, Kansas, Kentucky, Massachusetts, Missouri, Nebraska, New Hampshire, New Jersey, New York, Ohio, Ontario, Quebec, Texas, and Wisconsin. Interviews were sought with representative judges, lawyers, and where there were such, officials in charge of discovery examinations. Other means employed in obtaining information included the study of trial court records of examinations for discovery, observation of actual examinations and· correspondence with lawyers in states other than those in which field investigations were made.
Publisher
Callaghan and Company
Keywords
Discovery, Trials, Pleadings, Common law, Testimony, Pre-trial, Jurisdictions, Witnesses, Examinations, Records, Interrogatories, Disclosure, Documents, Equity pleading and procedure
Disciplines
Civil Procedure | Evidence | Legal Profession | Legal Writing and Research
Recommended Citation
Ragland, George, Jr. Discovery before Trial. Chicago: Callaghan and Company, 1932.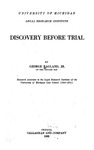 COinS