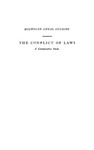 Files
Download Front Matter (31 KB)
Download Editorial Note (27 KB)
Download Introductory Note to the First Edition (176 KB)
Download Table of Contents (417 KB)
Download List of Abbreviations (516 KB)
Download Nine: Special Obligations; 34. Money Loans and Deposits (525 KB)
Download 35. Special Problems of Money Obligations (1.2 MB)
Download 36. Sales of Movables (977 KB)
Download 37. Sales of Goods: Scope of Rule (1.0 MB)
Download 38. Sale of Immovables (767 KB)
Download 39. Representation (799 KB)
Download 40. Authority (1.4 MB)
Download 41. Employment and Agency (932 KB)
Download 42. Workmen's Compensation (959 KB)
Download 43. Maritime Transportation of Goods (930 KB)
Download 44. Maritime Carriage of Goods: Comparative Conflicts Law (1.1 MB)
Download 45. Other Transportation Contracts (758 KB)
Download 46. Insurance (1.1 MB)
Download 47. Suretyship (601 KB)
Download 48. Extracontractual Obligations (779 KB)
Download Ten: Modification and Discharge of Obligations; 49. Voluntary Assignment of Simple Debts (1.7 MB)
Download 50. Other Transfers of Simple Debts (844 KB)
Download 51. Setoff and Counterclaim (Compensation) (551 KB)
Download 52. Statutes of Limitations (695 KB)
Download 53. Statutes of Limitation: Comparative Conflicts Law (1.1 MB)
Download Bibliography (548 KB)
Download Table of Statutes and International Conventions (428 KB)
Download Table of Anglo-American Cases (875 KB)
Download Index (555 KB)
Description
The third volume of Ernst Rabel's comparative treatise on the conflict of laws was originally published in 1950. With the continued support ofThe University of Michigan Law School and the cooperation of the Max-Planck-Institut für auslaändisches und internationals Privatrecht in Hamburg, this second edition of Volume III has been prepared. Plans for the revision of Volumes I and II were made before the death of the author on September 7, 1955, and the work was carried to completion by Dr. Ulrich Drobnig of the staff of the Institut in Hamburg. We were fortunate in obtaining the services of another well-qualified member of the staff of that Institut, Dr. Herbert Bernstein, who spent the academic year 1962-1963 as research associate at The University of Michigan Law School. As in previous revisions of this work, this volume has very few changes in the text, as distinguished from the footnotes. Citations and illustrations have been brought up to date to the end of 1962.
Publisher
The University of Michigan Press
Keywords
Choice of laws, Party autonomy, Conflicts rules, Obligations, Modifications, Discharges, Sales, Workers compensation, Movables, Immovables, Lex loci, Maritime transportation, Suretyship
Disciplines
Commercial Law | Comparative and Foreign Law | Conflict of Laws | Contracts
Recommended Citation
Rabel, Ernst, The Conflict of Laws: A Comparative Study, 2nd Ed. Vol. 3. Ann Arbor: The University of Michigan Press, 1964.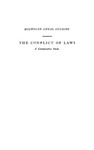 COinS