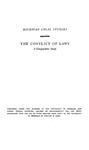 Files
Download Front Matter (53 KB)
Download Table of Contents (330 KB)
Download List of Abbreviations (534 KB)
Download Six: Corporations and Kindred Organizations; 18. Types of Organizations, Nationality, and Domicil (1.0 MB)
Download 19. The Personal Law of Business Corporations (1.4 MB)
Download 20. The Scope of the Personal Law of Corporations (1006 KB)
Download 21. Unincorporated Business Organizations (1.1 MB)
Download 22. Recognition (2.2 MB)
Download 23. Doing Business (1.8 MB)
Download Seven: Torts; 24. The Principle (986 KB)
Download 25. The Scope of the Principle (1.6 MB)
Download 26. The Place of Wrong (1.2 MB)
Download 27. Maritime and Aeronautic Torts (707 KB)
Download Eight: Contracts in General; 28. Choice of Law by the Parties (Party Autonomy) (1.4 MB)
Download 29. Theories Restricting Party Autonomy (1.3 MB)
Download 30. Rules in Absence of Party Agreement (2.0 MB)
Download 31. Form of Contracts (1.2 MB)
Download 32. Scope of the Law of the Contract (1.1 MB)
Download 33. Public Policy (1.5 MB)
Download Bibliography (549 KB)
Download Table of Statutes and International Conventions (860 KB)
Download Table of Anglo-American Cases (1.1 MB)
Download Index (558 KB)
Description
The second volume of Ernst Rabel's comparative treatise on the conflict of laws was originally published in 1947. This new edition completes the plan to revise the first two volumes, as arranged with the approval of the author before his death on September 7, 1955. Pursuant to this plan, the present edition has been made possible through the continued support of the work by the University of Michigan Law School and the generous cooperation of the Max Planck-Institut für aüslindisches und internationales Privatrecht in Hamburg, in making available the competent services of a member of the staff of the Institut, Dr. Ulrich Drobnig, who utilized the special facilities at the Legal Research Building in Ann Arbor from July, 1955, to June, 1956. In accordance with the advice of the author, whom Dr. Drobnig fortunately was able to consult before undertaking the revision of the two volumes, the collection and inclusion of new material in the author's text has been strictly limited to the addition of new citations and illustrations. Consequently, alterations of the text proper, as distinguished from the footnotes, have been avoided as far as possible. The additional material covers publications up to July 1, 1956, but with the continued co-operation of the Institut after Dr. Drobnig's return to Germany, account has been taken of later developments up to January 1, 1959.
Publisher
University of Michigan Law School
Keywords
Corporations, Business organizations, Legal persons, Conflicts law, Law of incorporation, Unincorporated business organizations, Contractual obligations, Maritime law, Aeronautic law, Party autonomy, Choice of laws, Lex causae
Disciplines
Business Organizations Law | Comparative and Foreign Law | Conflict of Laws | Torts
Recommended Citation
Rabel, Ernst, The Conflict of Laws: A Comparative Study, 2nd ed. Vol. 2. Ann Arbor: The University of Michigan Press, 1960.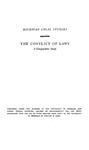 COinS