Preview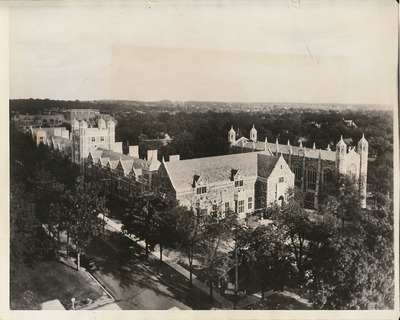 Description
This photograph shows an aerial photograph of the Lawyer's Club circa 1930's. A clipping affixed to the back of the photograph reads:
EX-WIFE TO CONTEST COOK ESTATE WILLED TO UNIVERSITY OF MICHIGAN
Regents of the University of Michigan have been notified that Mrs. Ida C. Cook, 71, divorced wife of the late William Wilson Cook, noted corporation counsel, intends to file suit for half of the $12,000,000 estate her former husband left to the University in his will. Cook's gifts to the University total well over $20,000,000. Among the various structures he made possible at the University during his lifetime is the Lawyers' Club, shown in photo. It is one of the most attractive at Ann Arbor.
CAK--CX--4--17--31
Keywords
Lawyers Club, Law Quad, University of Michigan Law School
COinS