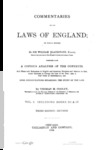 Files
Download Front Matter (139 KB)
Download Contents of This Volume (242 KB)
Download Analysis of the Contents of this Volume. (2.6 MB)
Download Book III. Of Private Wrongs. Chapter I. Of the Redress of Private Wrongs by the Mere Act of the Parties. (1.7 MB)
Download Book III Chapter II. Of Redress by the Mere Operation of the Law. (498 KB)
Download Book III Chapter III. Of Courts in General. (808 KB)
Download Book III Chapter IV. Of the Public Courts of Common Law and Equity. (2.8 MB)
Download Book III Chapter V. Of Courts Ecclesiastical, Military and Maritime. (1002 KB)
Download Book III Chapter VI. Of Courts of a Special Jurisdiction. (1.4 MB)
Download Book III Chapter VII. Of the Cognizance of Private Wrongs. (2.6 MB)
Download Book III Chapter VIII. Of Wrongs and their Remedies, Respecting the Rights of Persons. (2.6 MB)
Download Book III Chapter IX. Of Injuries to Personal Property. (2.2 MB)
Download Book III Chapter X. Of Injuries to Real Property, and First, of Dispossession, or Ouster, of the Freehold. (2.4 MB)
Download Book III Chapter XI. Of Dispossession, or Ouster, of Chattels Real. (974 KB)
Download Book III Chapter XII. Of Trespass. (808 KB)
Download Book III Chapter XIII. Of Nuisance. (810 KB)
Download Book III Chapter XIV. Of Waste. (814 KB)
Download Book III Chapter XV. Of Subtraction. (655 KB)
Download Book III Chapter XVI. Of Disturbance. (1.5 MB)
Download Book III Chapter XVII. Of Injuries Proceeding from or Affecting the Crown. (1.4 MB)
Download Book III Chapter XVIII. Of the Pursuit of Remedies by Action; and First, of the Original Writ. (846 KB)
Download Book III Chapter XIX. Of Process. (1.4 MB)
Download Book III Chapter XX. Of Pleading. (3.4 MB)
Download Book III Chapter XXI. Of Issue and Demurrer. (965 KB)
Download Book III Chapter XXII. Of the Several Species of Trial. (2.0 MB)
Download Book III Chapter XXIII. Of Trial by Jury. (3.6 MB)
Download Book III Chapter XXIV. Of Judgment and its Incidents. (1.4 MB)
Download Book III Chapter XXV. Of Proceedings in the Nature of Appeals. (1.5 MB)
Download Book III Chapter XXVI. Of Execution. (1.3 MB)
Download Book III Chapter XXVII. Of Proceedings in the Courts of Equity. (2.6 MB)
Download Book III Appendix. (2.2 MB)
Download Book IV. Of Public Wrongs. Chapter I. Of the Nature of Crimes and Their Punishment. (1.5 MB)
Download Book IV Chapter II. Of the Persons Capable of Committing Crimes. (1.3 MB)
Download Book IV Chapter III. Of Principals and Accessories. (842 KB)
Download Book IV Chapter IV. Of Offences Against God and Religion. (2.3 MB)
Download Book IV Chapter V. Of Offences Against the Law of Nations. (971 KB)
Download Book IV Chapter VI. Of High Treason. (1.8 MB)
Download Book IV Chapter VII. Of Felonies Injurious to the King's Prerogative. (825 KB)
Download Book IV Chapter VIII. Of Praemunire. (1.4 MB)
Download Book IV Chapter IX. Of Misprisions and Contempts Affecting the King and Government. (796 KB)
Download Book IV Chapter X. Of Offences Against Public Justice. (1.7 MB)
Download Book IV Chapter XI. Of Offences Against the Public Peace. (1.3 MB)
Download Book IV Chapter XII. Of Offences Against Public Trade. (1.5 MB)
Download Book IV Chapter XIII. Of Offences Against the Public Health, and the Public Police or Economy. (1.7 MB)
Download Book IV Chapter XIV. Of Homicide. (3.0 MB)
Download Book IV Chapter XV. Of Offenses Against the Persons of Individuals. (1.4 MB)
Download Book IV Chapter XVI. Of Offences Against the Habitations of Individuals. (1.1 MB)
Download Book IV Chapter XVII. Of Offences Against Private Property. (3.6 MB)
Download Book IV Chapter XVIII. Of the Means of Preventing Offences. (668 KB)
Download Book IV Chapter XIX. Of Courts of Criminal Jurisdiction. (1.9 MB)
Download Book IV Chapter XX. Of Summary Convictions. (1.3 MB)
Download Book IV Chapter XXI. Of Arrests. (860 KB)
Download Book IV Chapter XXII. Of Commitment and Bail. (692 KB)
Download Book IV Chapter XXIII. Of the Several Modes of Prosecution. (1.9 MB)
Download Book IV Chapter XXIV. Of Process Upon and Indictment. (515 KB)
Download Book IV Chapter XXV. Of Arraignment and its Incidents. (1010 KB)
Download Book IV Chapter XXVI. Of Pleas and Issue. (990 KB)
Download Book IV Chapter XXVII. Of Trial and Conviction. (2.2 MB)
Download Book IV Chapter XXVIII. Of the Benefit of the Clergy. (1.1 MB)
Download Book IV Chapter XXIX. Of Judgment and its Consequences. (1.3 MB)
Download Book IV Chapter XXX. Of Reversal of Judgment. (357 KB)
Download Book IV Chapter XXXI. Of Reprieve and Pardon. (814 KB)
Download Book IV Chapter XXXII. Of Execution. (508 KB)
Download Book IV Chapter XXXIII. Of the Rise, Progress, and Gradual Improvement of the Laws of England. (3.0 MB)
Download Editor's Review. (1.4 MB)
Download Local Government in Great Britain. (754 KB)
Download The British Colonial System. (739 KB)
Download Local Government in the United States. (597 KB)
Download The Territories of the United States. (504 KB)
Download Book IV Appendix (659 KB)
Download General Index (6.2 MB)
Description
From Editor's Preface, v.1: "Believing that the time has come when this work would be increased in value by discarding altogether the notes of English editors, and substituting matter more especially important to American practitioners and students, the editor has prepared this edition under that conviction.... To the Review of the recent progress of the law appended to the Fourth Book, there has been also added a summary account of the British Colonial System and the System of Local Government, and the means given for comparison of these with analogous institutions in the United States."
Publisher
Callaghan and Company
Keywords
William Blackstone, Blackstone's Commentaries, Laws of England, Laws of the United States, United StatesTerritories
Disciplines
Common Law | Comparative and Foreign Law | Legal History
Recommended Citation
Blackstone, William. Commentaries on the Laws of England : in Four Books.. 3rd ed., rev. Chicago : Callaghan and Company, 1884.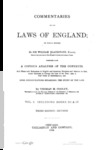 COinS