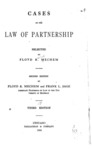 Files
Download Front Matter (17 KB)
Download Introductory Notes (35 KB)
Download Table of Contents (234 KB)
Download Table of Cases (209 KB)
Download Chapter I. What is a Partnership. (1.7 MB)
Download Chapter II. For What Purpose Organized. (554 KB)
Download Chapter III. Who May Be Partners. (1.1 MB)
Download Chapter IV. What Contracts and Acts Create Partnership. (4.6 MB)
Download Chapter V. Nature of Partner's Interest in Property. (1.4 MB)
Download Chapter VI. The Firm Name and Good Will. (1.7 MB)
Download Chapter VII. The Rights and Duties of Partners Toward Each Other. (1.1 MB)
Download Chapter VIII. Actions Between Partners. (1.8 MB)
Download Chapter IX. Powers of Partners. (2.1 MB)
Download Chapter X. Who Is Liable for the Acts of a Partner. (1.9 MB)
Download Chapter XI. Of the Nature and Extent of a Partner's Liability. (559 KB)
Download Chapter XII. Of Dissolution and Notice. (2.4 MB)
Download Chapter XIII. On the Consequences of Dissolution. (2.5 MB)
Download Chapter XIV. Agreements Between Partners at Dissolution Respecting Payment of Debts. (1.7 MB)
Download Chapter XV. Application of Assets to Claims of Creditors. (4.2 MB)
Download Chapter XVI. Distribution of Assets Between Partners. (271 KB)
Download Chapter XVII. Limited Partnerships. (17.7 MB)
Download Appendix A. The English Partnership Act 1890. (571 KB)
Download Index (615 KB)
Description
Note to First Edition [1896]: "The following collection of cases has been made primarily for use in connection with the writer's lectures on Partnership in the Law School of this University and to accompany his 'Elements of Partnership' recently published."
Note to Third Edition: "In this edition the number of cases has again [from Second Edition] been considerably increased." F.R.M. ... October 1, 1905
Publisher
Callaghan & Company
Keywords
Casebooks, Partnerships, Property, Property interests, Firms, Liability, Dissolution, Notice, Debts, Claims, Assets, Limited partnerships
Disciplines
Business Organizations Law | Contracts | Legal Education | Legal Profession
Recommended Citation
Mechem, Floyd R., and Sage, Frank. L. Cases on the law of partnership. Third edition. Chicago: Callaghan & Co., 1905.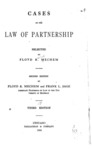 COinS