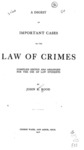 Files
Download Front Matter (15 KB)
Download Preface (164 KB)
Download Table of Contents (187 KB)
Download Table of Abbreviations (29 KB)
Download Chapter I. Sources of Our Criminal Law. (1.1 MB)
Download Chapter II. Definition and Nature of Crime. (3.4 MB)
Download Chapter III. The Criminal Intent. (5.2 MB)
Download Chapter IV. The Criminal Act. (3.9 MB)
Download Chapter V. The Parties to Crime. (1.0 MB)
Download Chapter VI. Jurisdiction and Punishment. (2.9 MB)
Download Part II. Specific Crimes. [Classification] (24 KB)
Download Chapter VII. Offenses Against the Person. (2.5 MB)
Download Chapter VIII. Offenses Against the Habitation. (1.3 MB)
Download Chapter IX. Offenses Against Property. (8.4 MB)
Download Chapter X. Offenses Against Public Peace. (359 KB)
Download Chapter XI. Offenses Against General Welfare--Public Morals, Safety, Health and Comfort. (1.2 MB)
Download Chapter XII. Offenses Against Public Justice and Authority. (863 KB)
Download Chapter XIII. Treason and Piracy. (15 KB)
Download Table of Cases Digested (406 KB)
Download Topical Index (746 KB)
Description
"In selecting the cases to be abridged, an effort has been made to choose those that have drawn the most attention, comment, and citation. The reputation of each case is shown to the reader in part by reference to the various collections of important cases on crimes which have been included…."--Preface.
Keywords
Crime, Crime, Punishment, Self-defense, Murder, Casebooks, University of Michigan Law School
Disciplines
Common Law | Criminal Law | Criminal Procedure | Jurisdiction | Legal Education
Recommended Citation
Rood, John R. A Digest of Important Cases on the Law of Crimes. Ann Arbor: George Wahr, 1906.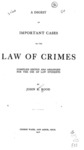 COinS