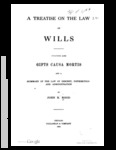 Files
Download Front Matter (111 KB)
Download Preface (243 KB)
Download Table of Contents (269 KB)
Download Table of Cases Cited (6.4 MB)
Download [Part I. Introduction.] Wills and Administration. Chapter I. Origin and Nature of Property and Succession. (704 KB)
Download Part II. Gifts Causa Mortis. Chapter II. GIfts Causa Mortis. (1.4 MB)
Download Part III. Wills. Chapter III. Errors in Wills. (156 KB)
Download [Part III.] Chapter IV. Definitions, Nature, and Kinds of Wills. (2.2 MB)
Download [Part III.] Chapter V. What May Be Disposed of By Will. (1.3 MB)
Download [Part III.] Chapter VI. Who May Make a Will. (2.7 MB)
Download [Part III.] Chapter VII. Error, Fraud, And Undue Influence. (3.1 MB)
Download [Part III.] Chapter VIII. Who May Take By Will. (1.6 MB)
Download [Part III.] Chapter IX. Formalities Required In Making Wills. (6.0 MB)
Download [Part III.] Chapter X. Revocation of Wills. (5.0 MB)
Download [Part III.] Chapter XI. Republication and Re-execution. (472 KB)
Download [Part III.] Chapter XII. By What Law Wills Are Governed. (1.1 MB)
Download [Part III.] Chapter XIII. Construction and Effect of Wills. (1.2 MB)
Download [Part III.] Chapter XIV. Ascertaining Beneficiaries and Their Respective Shares. (4.5 MB)
Download [Part III.] Chapter XV. Ascertaining What Property is Included. (3.6 MB)
Download [Part III.] Chapter XVI. Quantity or Duration of the Estate. (2.7 MB)
Download [Part III.] Chapter XVII. Time of Enjoyment of the Estate. (834 KB)
Download [Part III.] Chapter XVIII. Vesting and Divesting of Future Estates. (517 KB)
Download [Part III.] Chapter XIX. Estates Upon Condition. (4.5 MB)
Download [Part III.] Chapter XX. Lapse and Substitution. (2.8 MB)
Download [Part III.] Chapter XXI. Rights and Liabilities of Devisees and Legatees. (2.8 MB)
Download Part IV.--Intestate Succession. Chapter XXII. Descent and Distribution. (1.0 MB)
Download Part V.--Administration of Estates. Chapter XXIII. Jurisdiction of Court and Appointment of Officers. (1.3 MB)
Download Index (4.3 MB)
Description
"The present work was undertaken with the purpose of furnishing a substantial treatise on the whole law of succession in one volume. Within this scheme were comprehended the separate topics following: 1, gifts causa mortis, by reason of their resemblance to legacies; 2, wills, including all legal questions and doctrines peculiar to wills; 3, the substantive law of descent and distribution; and 4, the adjective law of succession, including the administration of both testate and intestate estates."--Preface.
Publisher
Callaghan & Company
Keywords
Wills, Estate transfer, Succession, Gifts, Casebooks, University of Michigan Law School
Disciplines
Administrative Law | Agency | Estates and Trusts | Legal Education
Recommended Citation
Rood, John R. A Treatise on the Law of Wills, Including Also Gifts Causa Mortis and a Summary of the Law of Descent, Distribution and Administration. Chicago: Callaghan & Company, 1904.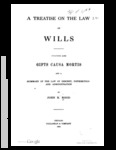 COinS