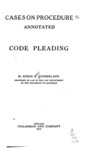 Files
Download Front Matter (15 KB)
Download Introductory Note and Preface (152 KB)
Download Table of Contents (300 KB)
Download Introduction--Code Pleading (1.1 MB)
Download Chapter I. Parties. (6.9 MB)
Download Chapter II. Splitting a Cause of Action. (1.3 MB)
Download Chapter III. Joinder Causes of Action. (2.7 MB)
Download Chapter IV. The Complaint or Petition. (5.1 MB)
Download Chapter V. The Answer. (8.9 MB)
Download Chapter VI. The Demurrer. (3.7 MB)
Download Chapter VII. The Reply. (2.7 MB)
Download Chapter VIII. Motions. (1.6 MB)
Download Chapter IX. Bills of Particulars. (359 KB)
Download Chapter X. Amendment and Aider. (2.6 MB)
Download Chapter XI. Construction of Pleadings. (417 KB)
Download Table of Cases (242 KB)
Description
"In the present volume on Code Pleading, the editor has aimed to present the subject, in all of its more important features, as a complete working system of pleading. The code has frequently been treated as the mere 'antithesis' of common law pleading, and this has resulted in throwing the subject completely out of balance by unreasonably extending the discussion of those elements which are 'characteristic' of the code, while unduly restricting or entirely ignoring those principles which the code shares with the common law….
"The student should be able to obtain a clear conception of the system as a currently used method of procedure, adapted to the complex demands of modern litigation ....
"The editor has endeavored in this book to treat the code as it is actually employed, to disclose both the logic of its theory and the difficulties of its practice, for the purpose of giving the student a thorough and intimate understanding of code pleading as both a science and an art." --Preface
Publisher
Callaghan and Company
Keywords
Code pleading, Causes of action, Demurrer, Pleadings, Motions, Casebooks
Disciplines
Civil Procedure | Common Law | Legal Education | Litigation
Recommended Citation
Sunderland, Edson R. Cases on Procedure, Annotated. Code Pleading. Chicago: Callaghan and Co., 1913.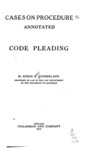 COinS