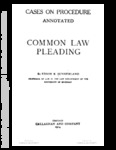 Files
Download Front Matter (412 KB)
Download Introductory Note and Preface (2.6 MB)
Download Introductory Note and Preface (4.9 MB)
Download Chapter I. Forms of Action. (115.0 MB)
Download Chapter II. The Nature and Purpose of Pleading. (7.2 MB)
Download Chapter III. Demurrers. (36.8 MB)
Download Chapter IV. The Declaration. (151.9 MB)
Download Chapter V. Principles Relating to Pleas in General. (31.1 MB)
Download Chapter VI. Traverses. (30.9 MB)
Download Chapter VII. Affirmative Pleas in Bar. (37.3 MB)
Download Chapter VIII. Pleas in Abatement. (7.9 MB)
Download Chapter IX. Replication and Subsequent Pleadings. (23.7 MB)
Download Chapter X. Amendment, Aider and Repleader. (22.6 MB)
Download Chapter XI. Parties to Actions. (59.7 MB)
Download Table of Cases (4.3 MB)
Description
"No subject is more intimately connected with the history and development of our law than common law pleading. In sharp contrast with the other great system of law, that founded by the Romans, the common law has not been the product of legislation, but of litigation. It has grown up in the atmosphere of courts of justice. Such a genesis would necessarily give it a strong procedural favor, and would tend to emphasize remedies at the expense of rights. Procedure might therefore be expected to play a much larger part in the development of the common law than in the development of the Roman law, and such has been the fact. To understand common law rights one must understand common law remedies, for the former were developed through the latter….
"A proper balance must be maintained between pleading as a method of analysis and pleading as a practical means of presenting cases for judicial decision. This aim the editor has constantly had in mind in selecting and arranging these cases." --Preface
Publisher
Callaghan and Company
Keywords
Pleas, Pleading, Trials, Forms of action, Trial procedure, Casebooks, University of Michigan Law School
Disciplines
Civil Procedure | Common Law | Courts | Legal Education | Legal Profession | Litigation
Recommended Citation
Sunderland, Edson R. Cases on Procedure, Annotated. Common Law Pleading. Chicago: Callaghan and Co., 1914.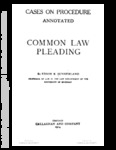 COinS