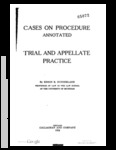 Files
Download Front Matter (380 KB)
Download Preface (2.0 MB)
Download Table of Contents (3.4 MB)
Download Chapter I. Writs of Summons. (15.4 MB)
Download Chapter II. Service and Return of Summons. (26.8 MB)
Download Chapter III. Appearance. (22.5 MB)
Download Chapter IV. Continuance. (12.6 MB)
Download Chapter V. The Jury. (27.1 MB)
Download Chapter VI. The Right to Open and Close. (5.1 MB)
Download Chapter VII. Opening Statement of Counsel. (8.6 MB)
Download Chapter VIII. Judgment on the Pleadings. (2.3 MB)
Download Chapter IX. Demurrer to the Evidence. (8.7 MB)
Download Chapter X. Dismissal, Non-Suit and Directed Verdict. (24.1 MB)
Download Chapter XI. Instructing the Jury. (53.8 MB)
Download Chapter XII. Argument and Conduct of Counsel. (13.7 MB)
Download Chapter XIII. Special Interrogatories. (17.9 MB)
Download Chapter XIV. Special Verdicts. (5.2 MB)
Download Chapter XV. Judgment Notwithstanding the Verdict. (3.2 MB)
Download Chapter XVI. Arrest of Judgment. (8.6 MB)
Download Chapter XVII. New Trials. (91.6 MB)
Download Chapter XVIII. Trial and Findings by the Court. (11.6 MB)
Download Table of Cases (2.7 MB)
Description
"The present volume is intended to develop and disclose the rational basis for the main principles of practice employed in the trial of civil actions at law. Recourse has been had to the whole body of American case law, and the choice of cases has been determined by the clearness with which the court has shown a logical justification for the decision made….
"The cases have been very freely edited, and everything not germane to the subject for which the case was chosen has been omitted…." --Preface
Publisher
Callaghan and Company
Keywords
Trial practice, Trials, Trial courts, Juries, Jury instructions, Casebooks
Disciplines
Civil Procedure | Courts | Legal Education | Legal Profession | Litigation | Torts
Recommended Citation
Sunderland, Edson R. Cases on Procedure, Annotated. Trial Practice. Chicago: Callaghan and Co., 1912.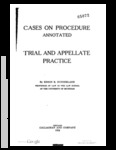 COinS