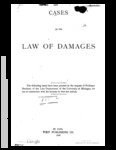 Files
Download Front Matter (129 KB)
Download Table of Contents (223 KB)
Download Cases Reported (273 KB)
Download Chapter I. Nominal Damages. (1.6 MB)
Download Chapter II. Exemplary Damages. (7.9 MB)
Download Chapter III. General and Special Damages. (974 KB)
Download Chapter IV. Present and Prospective Damages. (1.6 MB)
Download Chapter V. Direct and Consequential Damages. (9.3 MB)
Download Chapter VI. Liquidated Damages. (2.6 MB)
Download Chapter VII. Damages Against Telegraph Companies. (3.5 MB)
Download Chapter VIII. Damages for Causing Death. (843 KB)
Download Chapter IX. Damages Respecting Real Property. (2.7 MB)
Download Chapter X. Injuries Respecting Personal Property. (1.5 MB)
Download Chapter XI. Interest on Damages. (1.1 MB)
Download Chapter XII. Breach of Agreement Respecting Sales of Goods. (2.6 MB)
Download Chapter XIII. Breach of Agreement Respecting Sales of Lands. (1.6 MB)
Download Chapter XIV. Breach of Landlord's Covenants. (1.6 MB)
Download Chapter XV. Mental Suffering. (716 KB)
Download Chapter XVI. Financial Condition of Parties. (660 KB)
Download Chapter XVII. Mitigation of Damages. (2.8 MB)
Description
"The following cases have been printed at the request of Professor Mechem, of the Law Department of the University of Michigan, for use in connection with his lectures in that law school."-- Title page.
Publisher
West Publishing Co.
Keywords
Damages, Accidents and injuries, Telegraph companies, Landlords, Casebooks, University of Michigan Law School
Disciplines
Contracts | Legal Education | Property Law and Real Estate | Torts
Recommended Citation
Mechem, Floyd R. Cases on the Law of Damages.. St. Paul, Minn.: West Publishing Co., 1895.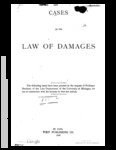 COinS