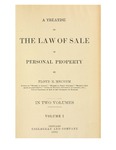 Files
Download Front Matter (541 KB)
Download Preface (978 KB)
Download Table of Contents (14.1 MB)
Download Table of Cases Cited (58.8 MB)
Download Book I, Chapter I: Definitions (3.5 MB)
Download Book I, Chapter II: Transactions to Be Distinguished from Sales (26.7 MB)
Download Book I, Chapter III: Of the Capacity of Parties - Who May Buy and Sell (42.0 MB)
Download Book I, Chapter IV: Of the Thing Sold - What May Be Bought and Sold (4.8 MB)
Download Book I, Chapter V: Of the Price (4.3 MB)
Download Book I, Chapter VI: Of the Contract of Sale - in General (23.9 MB)
Download Book I, Chapter VII: Of the Contract of Sale Under the Statute of Frauds (48.4 MB)
Download Book II, Chapter I: Purpose of Book II (1.3 MB)
Download Book II, Chapter II: Of the Unconditional Sale of Specific Chattels (9.2 MB)
Download Book II, Chapter III: Of the Conditional Sale of Specific Chattels (63.6 MB)
Download Book II, Chapter IV: Of Contracts Respecting Existing Chattels Not Yet Identified (24.6 MB)
Download Book II, Chapter V: Of Contracts Respecting Good to Be Manufacture or Grown (6.8 MB)
Download Book II, Chapter VI: Of the Reservation of the Jus Disponendi (11.9 MB)
Description
When this task was undertaken the writer believed that there was a real need for an American book upon the law of Sale. In the long time that he bas been at work, various contributions to the subject have been made by others, so that it is possible that the need, if it ever existed, has long since been supplied. The writer, however, whether wisely or unwisely, has persisted in his undertaking, and if bis work shall prove to have a value in some degree commensurate with the labor spent upon it, he will be content.
Publisher
Callaghan & Company
Keywords
Property, Personal property, Sales, Treatises, Purchases, Transactions, Goods, Contracts, Statute of Frauds, Chattels
Disciplines
Commercial Law | Contracts | Property Law and Real Estate
Recommended Citation
Mechem, Floyd R. A Treatise on the Law of Sale of Personal Property, vol. 1. Chicago: Callaghan and Company, 1901.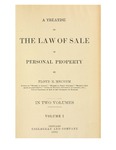 COinS