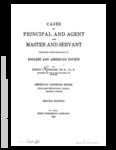 Files
Download Front Matter (120 KB)
Download Preface to American Casebook Series (535 KB)
Download Preface to Cases on Principal and Agent 2nd. (214 KB)
Download Table of Contents (199 KB)
Download Table of Cases (747 KB)
Download Part I, The Relation. Chapter I, Definition and Nature of the Relation. (3.4 MB)
Download Part I, Chapter II. The Parties to the Relation. (1.2 MB)
Download Part I, Chapter III. The Purposes of the Relation. (1.5 MB)
Download Part I, Chapter IV, Creation of the Relation. Section 1. In General. (2.8 MB)
Download Part I, Chapter IV, Section 2. Ratification. (10.1 MB)
Download Part I, Chapter V, Termination of the Relation. Section 1. By Operation of the Law. (1.6 MB)
Download Part I, Chapter V, Section 2. By Act of the Parties. (4.7 MB)
Download Part I, Chapter V, Section 3. Effect of Termination. (190 KB)
Download Part II, The Authority. Chapter I, Nature and Extent. Section 1. In General. (1.3 MB)
Download Part II, Chapter I, Section 2. Authority and Instructions. (1.8 MB)
Download Part II, Chapter I, Section 3. Apparent Authority. (1.1 MB)
Download Part II, Chapter I, Section 4. Express and Implied Authority. (3.0 MB)
Download Part II, Chapter I, Section 5. General and Special Authority. (772 KB)
Download Part II, Chapter II. Construction of the Authority. (977 KB)
Download Part II, Chapter III. Execution of the Authority. (3.5 MB)
Download Part II, Chapter IV. Delegation of the Authority. (2.3 MB)
Download Part III, Effects and Consequences of the Relations. Chapter I. Duties and Liabilities of the Representative to His Constituent. Section 1. Loyalty. (3.7 MB)
Download Part III, Chapter I, Section 2. Obedience. (1.5 MB)
Download Part III, Chapter I, Section 3. Exercise of Care and Skill. (613 KB)
Download Part III, Chapter I, Section 4. Accounting for Money or Property. (2.3 MB)
Download Part III, Chapter I, Section 5. To Give Notice. (236 KB)
Download Part III, Chapter II. Duties and Liabilities of Constituent to Representative. Section 1. Compensation. (3.9 MB)
Download Part III, Chapter II, Section 2. Reimbursement and Indemnity. (1.1 MB)
Download Part III, Chapter II, Section 3. The Agent's Lien. (524 KB)
Download Part III, Chapter II, Section 4. Defenses of Master. (11.3 MB)
Download Part III, Chapter III. Liability of the Representative to the Third Party. Section 1. In Contract. (4.2 MB)
Download Part III, Chapter III, Section 2. In Tort. (1.6 MB)
Download Part III, Chapter IV. Liability of Third Persons to the Representative. Section 1. In Contract. (1.5 MB)
Download Part III, Chapter IV, Section 2. In Tort. (2.5 MB)
Download Part III, Chapter V. Liability of Constituent to Third Person. Section 1. In Contract. (3.5 MB)
Download Part III, Chapter V, Section 2. In Tort. (4.9 MB)
Download Part III, Chapter V, Section 3. For the Declarations, Representations, and Admissions of the Representative. (941 KB)
Download Part III, Chapter V, Section 4. For Notice to Agent. (1.2 MB)
Download Part III, Chapter VI. Liability of the Third Person to the Constituent. Section 1. On the Contract Made by the Agent. (1.3 MB)
Download Part III, Chapter VI, Section 2. For Funds or Property of the Principal. (720 KB)
Download Part III, Chapter VI, Section 3. In Tort. (2.1 MB)
Download Part IV. Statutes. (12.3 MB)
Download Appendix (2.5 MB)
Download Index (1.7 MB)
Description
"In the first edition of this work no effort was made to cover the subject of Master and Servant. The exigencies of the law school curriculum, if not the unity of the subjects, seem to require that Principal and Agent and Master and Servant be treated in a single course. Historically the subject of Agency grew out of the much earlier developed subject of Master and Servant. Blackstone did not use the term 'agent' in reference to the agency relation, nor does he recognize the subject of Agency apart from that of Master and Servant, and there only in a brief paragraph. Almost always in the older cases, and not infrequently to-day, the term 'servant' is used indifferently to designate one who acts for another, whether ministerially or in establishing contractual relations with third persons….
….The present importance of agency and its great development grow out of the fact that it is essentially a business relation, developed to meet the imperative needs of modern business." --Preface.
Publisher
West Publishing Co.
Keywords
Agency, Relationship, Master and servant, Principals, Authority, Duties, Actions, Liabilities, Casebooks
Disciplines
Agency | Contracts | Legal Education
Recommended Citation
Goddard, Edwin C. Cases on Principal and Agent and Master and Servant Selected from Decisions of English and American Courts. 2nd ed. St. Paul: West Publishing Company, 1925.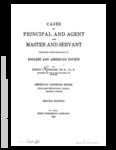 Included in
COinS