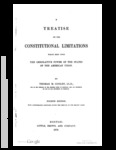 Files
Download Front Matter (122 KB)
Download Preface (245 KB)
Download Table of Contents (805 KB)
Download Table of Cases Cited (4.6 MB)
Download Chapter I. Definitions. (478 KB)
Download Chapter II. The Constitution of the United States. (2.3 MB)
Download Chapter III. The Formation and Amendment of State Constitutions. (2.1 MB)
Download Chapter IV. Construction of State Constitutions. (5.6 MB)
Download Chapter V. The Powers Which the Legislative Department May Exercise. (5.6 MB)
Download Chapter VI. The Enactment of Laws. (3.8 MB)
Download Chapter VII. The Circumstances Under Which a Legislative Enactment May Be Declared Unconstitutional. (3.5 MB)
Download Chapter VIII. The Several Grades of Municipal Government. (9.1 MB)
Download Chapter IX. Protection to Person and Property Under the Constitution of the United States. (5.0 MB)
Download Chapter X. The Constitutional Protections of Personal Liberty. (7.6 MB)
Download Chapter XI. Protection of Property by the 'Law of the Land.' (8.6 MB)
Download Chapter XII. Liberty of Speech and of the Press. (6.4 MB)
Download Chapter XIII. Religious Liberty. (1.9 MB)
Download Chapter XIV. The Power of Taxation. (5.4 MB)
Download Chapter XV. Eminent Domain. (6.6 MB)
Download Chapter XVI. The Police Power of the States. (3.9 MB)
Download Chapter XVII. The Expression of the Popular Will. (5.0 MB)
Download Index (5.2 MB)
Download 'Reducing Legislation' newspaper inclusion, provenance unknown (263 KB)
Description
In the Preface to the first edition of this work. the author stated its purpose to be, to furnish to the practitioner and the student of the law such a presentation of elementary constitutional principles as should serve, with the aid of its references to judicial decisions, legal treatises, and historical events, as a convenient guide in the examination of questions respecting the constitutional limitations which rest upon the power of the several State legislatures. …
Preface to the 4th Edition: "New topics in State Constitutional Law are not numerous; but such as are suggested by recent decisions have been discussed in this edition, and it is believed considerable value has been added to the work by further references to adjudged cases." --Thomas M. Cooley, University of Michigan, Ann Arbor, April 1878.
Publisher
Little, Brown, and Company
Keywords
Constitution, Governance, State constitutions, Legislatures, History, England, Freedom of speech, Freedom of the press, Freedom of religion, Bill of Rights, Municipalities, Personal property, Property rights, Statutory interpretation, Constitutional amendments, Constitutional interpretation, Police power, Eminent domain
Disciplines
Civil Rights and Discrimination | Constitutional Law | Courts | Jurisdiction | Legislation | State and Local Government Law | Supreme Court of the United States
Recommended Citation
Cooley, Thomas M. A Treatise on the Constitutional Limitations Which Rest upon the Legislative Power of the States of the American Union. 4th ed. Boston: Little, Brown & Company, 1878.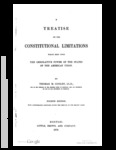 COinS