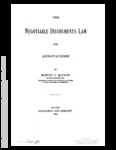 Files
Download Front Matter (134 KB)
Download Preface (374 KB)
Download Table of Contents (152 KB)
Download Table of Cases (4.0 MB)
Download Introduction to the Negotiable Instruments Law (3.7 MB)
Download Negotiable Instruments Law of 1905 (845 KB)
Download Title I. Negotiable Instruments in General. Article I. Form and Interpretation. (3.9 MB)
Download Article II. Consideration. (2.1 MB)
Download Article III. Negotiation. (2.9 MB)
Download Article IV. Rights of the Holder. (3.2 MB)
Download Article V. Liabilities of Parties. (2.5 MB)
Download Article VI. Presentment for Payment. (3.7 MB)
Download Article VII. Notice of Dishonor. (4.1 MB)
Download Article VIII. Discharge of Negotiable Instruments. (2.7 MB)
Download Title II. Bills of Exchange. Article I. Form and Interpretation. (839 KB)
Download Article II. Acceptance. (1.5 MB)
Download Article III. Presentment for Acceptance. (1.1 MB)
Download Article IV. Protest. (1.1 MB)
Download Article V. Acceptance for Honor. (896 KB)
Download Article VI. Payment for Honor. (542 KB)
Download Article VII. Bills in a Set. (559 KB)
Download Title III. Promissory Notes and Checks. (1.6 MB)
Download Appendix (5.7 MB)
Download Index (2.9 MB)
Description
"The Negotiable Instruments Law was enacted by the Legislature of Michigan at its 1905 session and on this 16th day of September, 1905, becomes a law of the State.
Soon after the approval of the Act -- June 16, 1905, -- I undertook the work of annotating the statute and of explaining its origin, scope and purpose in such particulars as seemed to invite explanation....
I submit the result of my work -- undertaken in the hope that it might help the profession and the bankers and the business men in dealing with this statute -- to all who may find occasion to make use of it ..."
Publisher
Callaghan and Co.
Keywords
Negotiable instruments, University of Michigan Law School, State of Michigan laws
Disciplines
Banking and Finance Law | Commercial Law | Contracts | Secured Transactions
Recommended Citation
Bunker, Robert E. The Negotiable Instruments Law With Annotations. Chicago: Callaghan & Co., 1905.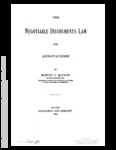 COinS