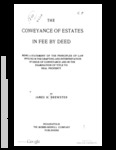 Files
Download Front Matter (217 KB)
Download Table of Contents (1.0 MB)
Download Table of Cases (4.5 MB)
Download Chap. I. Introductory. (851 KB)
Download Chap. II. The Chief Methods of Alientation of Land Inter Vivos. (629 KB)
Download Chap. III. The Deed. (1.5 MB)
Download Chap. IV. The Date. (408 KB)
Download Chap. V. The Parties. (1.1 MB)
Download Chap. VI. Recitals. (479 KB)
Download Chap. VII. The Consideration. (1.5 MB)
Download Chap. VIII. The Operative Words. (502 KB)
Download Chap. IX. Description of the Property. (4.7 MB)
Download Chap. X. Exceptions - Derivations. (895 KB)
Download Chap. XI. Limitation of the Estate - the Habendum. (1.8 MB)
Download Chap. XII. Concurrent Ownership. (1.7 MB)
Download Chap. XIII. Conditions. (1.9 MB)
Download Chap. XIV. Covenants. (5.1 MB)
Download Chap. XV. Signing. (830 KB)
Download Chap. XVI. Sealing. (1.1 MB)
Download Chap. XVII. Attestation. (494 KB)
Download Chap. XVIII. Acknowledgement. (3.6 MB)
Download Chap. XIX. Delivery. (1.9 MB)
Download Chap. XX. Conveyance of Real Estate of Infants. (2.0 MB)
Download Chap. XXI. Conveyance of the Real Estate of Persons of Unsound Mind. (1.4 MB)
Download Chap. XXII. Conveyances in Which Married Women are Interested. (3.0 MB)
Download Chap. XXIII. The Homestead in Conveyancing. (2.3 MB)
Download Chap. XXIV. Capacity of Corporations to Purchase and Convey Real Property. (766 KB)
Download Chap. XXV. Capacity of Aliens to Purchase and Convey Real Property. (411 KB)
Download Chap. XXVI. Capacity of Convicts to Take and Convey Real Property. (367 KB)
Download Chap. XXVII. The Disability of a Grantor Arising from Adverse Possession. (610 KB)
Download Chap. XXVIII. The Examination of the Title to Real Property. (1.2 MB)
Download Chap. XXIX. Registration of Title to Real Estate. (1.6 MB)
Download Index (2.8 MB)
Description
The purpose of the writer has been to state the principles of law applicable to the transfer of the title to real property by deed, in such manner as to assist one in drafting and interpreting the instrument of transfer.
Publisher
Bobbs-Merrill Company
Keywords
Deeds, Conveyancing
Disciplines
Common Law | Estates and Trusts | Legal History | Legal Profession | Property Law and Real Estate
Recommended Citation
Brewster, James H. The Conveyance of Estates in Fee by Deed : Being a Statement of the Principles of Law Involved in the Drafting and Interpretation of Deeds of Conveyance and in the Examination of Title to Real Property. Indianapolis: Bobbs-Merrill Company, 1904.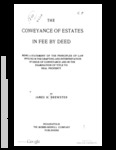 COinS