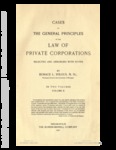 Files
Download Front Matter (802 KB)
Download Table of Contents (720 KB)
Download Introductory Note (570 KB)
Download Pt. III The Corporation as a Subject and Source of Rights and Obligations con't (72.0 MB)
Download Pt. IV Special Relations Arising from the Existence of a Corporation. Div. I: Corporate Relations (300.9 MB)
Download Pt. IV Div.II: Individual Relations (185.8 MB)
Download Appendix: Forms (22.1 MB)
Download Index (43.0 MB)
Description
In the first volume, and in the first two titles of the second volume, are considered the doctrines relating to the birth, life, powers, acts, obligations, and death of a corporation, effort being made to get a view of the general principles of the whole.
This second volume, with the exception of the first two titles, deals with the Corporation as a Subject and Source of Peculiar Rights and Obligations in its twofold aspect of Corporate Relations and Individual Relations.
Publisher
The Bowen-Merrill Company
City
Indianapolis, Indiana
Keywords
Casebooks, Corporations, Cases, Corporate governance, Law students, Curriculum
Disciplines
Business Organizations Law | Legal Education
Recommended Citation
Wilgus, Horace L. Cases on the General Principles of the Law of Private Corporations, vol. 2. Indianapolis, Ind.: The Bowen-Merrill Company, 1902.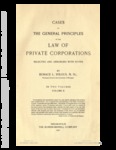 COinS