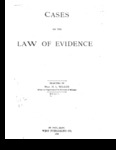 Files
Download Front Matter (507 KB)
Download Table of Contents (6.3 MB)
Download Cases reported (5.2 MB)
Download Introduction: Cases 1-3 (16.5 MB)
Download Pt. I: Relevancy. Cases 4-41 (216.1 MB)
Download Pt. I Cases 42-77 (195.4 MB)
Download Pt.II: Proof. Cases 78-121 (240.5 MB)
Download Pt.III: Production and Effect of Evidence. Cases 122-173 (318.2 MB)
Download Index (3.7 MB)
Description
A casebook supporting Evidence course in any Law curriculum. The work is arranged in three sections: Part I: Relevancy; Part II, Proof; and Part III, Production and Effect of Evidence. There is further organization into 113 topical Sections as described in the Table of Contents. The author provides no introductory remarks.
Publisher
West Publishing Co.
Keywords
Evidence, Casebooks, Cases, Law students, Curriculum
Disciplines
Courts | Evidence | Legal Education | Legal Writing and Research | Litigation | Rule of Law
Recommended Citation
Wilgus, Horace L. Cases on the Law of Evidence. St. Paul, Minn.: West Publishing Co., 1896.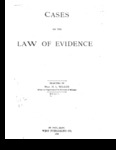 COinS