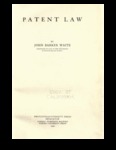 Title
Files
Download Front Matter (678 KB)
Download Preface (1.1 MB)
Download Table of Contents (799 KB)
Download Chapter I: Origin of Patent Rights (5.9 MB)
Download Chapter II: What May Be Patented (53.4 MB)
Download Chapter III: Utility (6.0 MB)
Download Chapter IV: The Person Entitled to a Patent (10.1 MB)
Download Chapter V: Loss of Right to a Patent (16.1 MB)
Download Chapter VI: Securing a Patent (29.5 MB)
Download Chapter VII: Actions to Avoid Patents (2.7 MB)
Download Chapter VIII: The Ownership of the Monopoly (29.4 MB)
Download Chapter IX: Protection of the Monopoly (23.9 MB)
Download Chapter X: Designs (6.7 MB)
Download Chapter XI: Epilogue (3.6 MB)
Description
The comparatively small size of the book is not due to any conscious superficiality of treatment nor omission of pertinent subject matter. It purports to cover only the substantive law of patents, their nature, validity, effect, and their characteristics as property. Matters of procedure in securing patents or suing on them, and the difficult subject of the amount of compensation recoverable by suit, would require a volume for themselves and are not included here. But of the matter which is included, it has been my desire to present every issue which has come before the courts....
This book is intended more particularly for the use of inventors, business men, engineers, lawyers in general practice and all that class of laymen who from time to time want information concerning their rights in respect to inventions and patents.
Publisher
Princeton University Press
Keywords
Patent law, Patents, Patentability, Law practice, Property, Remedies, Inventions, Inventors
Disciplines
Civil Procedure | Intellectual Property Law | Legal Profession | Legal Remedies
Recommended Citation
Waite, John Barker. Patent Law. Princeton, NJ: Princeton University Press, 1920.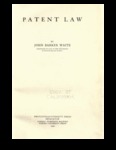 COinS