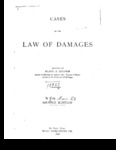 Files
Download Front Matter (1.1 MB)
Download Table of Contents (1.9 MB)
Download Cases Reported (4.4 MB)
Download Chapter 1: Nominal and Substantial Damages (26.7 MB)
Download Chapter 2: Compensatory and Exemplary Damages (112.3 MB)
Download Chapter 3: General and Special Damages (16.5 MB)
Download Chapter 4: Present and Prospective Damages (78.7 MB)
Download Chapter 5: Direct and Consequential Damages (110.4 MB)
Download Chapter 6: Liquidated and Unliquidated Damages (34.9 MB)
Download Chapter 7: Damages for Nonpayment of Money-Interest (25.3 MB)
Download Chapter 8: Damages for Breach of Contracts Respecting Personal Property (38.4 MB)
Download Chapter 9: Damages for Breach of Contracts Respecting Real Estate (57.8 MB)
Download Chapter 10: Damages for Breach of Contracts Respecting Personal Services (23.3 MB)
Download Chapter 11: Damages in Actions Against Carries (40.5 MB)
Download Chapter 12: Damages in Actions Against Telegraph Companies (25.0 MB)
Download Chapter 13: Damages for Causing Death (12.8 MB)
Download Chapter 14: Damages for Injuries to Property (71.6 MB)
Download Chapter 15: Damages for Personal Injuries (46.9 MB)
Download Chapter 16: Aggravation of Damages (10.8 MB)
Download Chapter 17: Mitigation of Damages (42.5 MB)
Download Chapter 18: Excessive or Insufficient Damages (23.5 MB)
Description
The following selection of cases in the law of Damages has been made primarily for use in connection with the lectures upon that subject given in the Law Department of the University of Michigan. The purpose has been partly to supply illustrations of the application of principles referred to in the lectures, and partly to supplement the lectures by rounding out the view of certain fields not otherwise completely developed. Arbitrary, but inexorable, considerations of size and price have determined the scope of the selection; and, for reasons perhaps sufficiently obvious, preference has been given, when possible, to cases which have appeared in the National Reporter System. It is, however, due to the publishers to say that, with respect to both of the considerations above mentioned, their attitude has been constantly generous. The cases, as a role, are not annotated, and they have usually been reproduced entire, although some parts of them may not be germane to the subject of Damages.
Publisher
West Publishing Company
Disciplines
Law | Other Law
Recommended Citation
Mechem, Floyd R. Cases on the Law of Damages. 2nd ed. St. Paul, Minn.: West Publishing Co., 1898.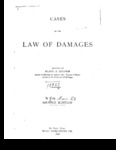 Included in
COinS