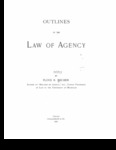 Files
Download Front Matter (996 KB)
Download Table of Contents (1.5 MB)
Download Table of Cases (2.3 MB)
Download Introduction (395 KB)
Download Chapter I: Definitions and Distinctions (4.3 MB)
Download Chapter II: For What Purposes an Agency May Be Created (2.5 MB)
Download Chapter III: Who May Be Principal or Agent (5.4 MB)
Download Chapter IV: Appointment of Agents and the Evidence Thereof (4.2 MB)
Download Chapter V: Authority by Ratification (5.4 MB)
Download Chapter VI: Delegation of Authority by the Agent (2.5 MB)
Download Chapter VII: Termination of the Agency (4.7 MB)
Download Chapter VIII: Of the Nature and the Extent of the Authority (2.3 MB)
Download Chapter IX: Construction of the Authority (3.4 MB)
Download Chapter X: Execution of the Authority (2.5 MB)
Download Chapter XI: Duties of the Agent to the Principal (3.1 MB)
Download Chapter XII: Duties and Liabilities of the Principal to Third Persons (5.1 MB)
Download Chapter XIII: Duties and Liabilities of the Principal to the Agent (4.9 MB)
Download Chapter XIV: Duties and Liabilities of the Principal to Third Persons (5.6 MB)
Download Chapter XV: Duties and Liabilities of Third Persons to the Agent (4.0 MB)
Download Chapter XVI: Duties and Liabilities of Third Persons to the Principal (3.0 MB)
Download Chapter XVII: Of Special Classes of Agents (6.5 MB)
Download Index (2.6 MB)
Description
The subject of Agency belongs to a comparatively recent period in our law … Agency belongs distinctively to a commercial age, and its growth has kept pace with the progress of commercial activity. It furnishes the means by which the range of individual and corporate activity is enormously increased. One person may thus have many an alter ego. A single brain may direct a hundred hands. The modern business man may be constructively present in many places and carry on diverse and widely separated industries at the same time.
The following pages have been printed to accompany the writer's collection of Cases on Agency for use in the Department of Law of this University. Nothing has been attempted beyond the merest outlines of the subject. Explanation as well as illustration has, in general been left to be supplied by the cases.
Publisher
Callaghan & Co.
Keywords
Agents, Contracts, Commercial Law, Legal Education, University of Michigan Law School
Disciplines
Agency | Commercial Law | Contracts | Legal Writing and Research
Recommended Citation
Mechem, Floyd R. Outlines of the Law of Agency. Chicago: Callaghan & Company, 1901.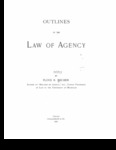 COinS