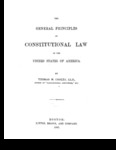 Files
Download Front Matter (496 KB)
Download Preface (962 KB)
Download Table of Contents (1.6 MB)
Download Table of Cases (11.0 MB)
Download Constitution of the United States of America (15.0 MB)
Download Chapter I: The Rise of the American Union (14.6 MB)
Download Chapter II: Definitions and General Principles (20.7 MB)
Download Chapter III: Distribution of the Powers of Government (9.8 MB)
Download Chapter IV: The Powers of Congress (40.3 MB)
Download Chapter V: The Powers of the Federal Executive (6.3 MB)
Download Chapter VI: The Judicial Department of the Federal Government (29.1 MB)
Download Chapter VII: Checks and Balances in Government (20.4 MB)
Download Chapter VIII: The Government of the Territories (4.3 MB)
Download Chapter IX: The Admission of New States (7.8 MB)
Download Chapter X: Constitutional Rules of State Comity (14.0 MB)
Download Chapter XI: The Guaranty of Republican Government to the States (4.4 MB)
Download Chapter XII: The Amendments to the Constitution (5.1 MB)
Download Chapter XIII: Civil Rights and Their Guaranties (32.2 MB)
Download Chapter XIV: Political Privileges and Their Protections (37.2 MB)
Download Chapter XV: Protections to Persons Accused of Crime (14.4 MB)
Download Chapter XVI: Protections to Contracts and Property (38.0 MB)
Download Chapter XVII: Municipal Corporations (2.7 MB)
Download Index (14.6 MB)
Description
The manual which follows has been prepared for the use of students in law schools and other institutions of learning. The design has been to present succinctly the general principles of constitutional law, whether they pertain to the federal system, or to the state system, or both. Formerly, the structure of the federal constitutional government was so distinct from that of the States, that each might usefully be examined and discussed apart from the other; but the points of contact and dependence have been so largely increased by the recent amendments to the federal Constitution that a different course is now deemed advisable. Some general principles of constitutional law, which formerly were left exclusively to state protection, are now brought within the purview of the federal power, and any useful presentation of them must show the part they take in federal as well as state government. An attempt has been made to do this in the following pages.
Publisher
Little, Brown, and Company
Keywords
Constitutional law, Legal education, Supreme Court of the United States, Conflict of laws, Jurisdiction
Disciplines
Constitutional Law | Jurisdiction | Supreme Court of the United States
Recommended Citation
Cooley, Thomas M. The General Principles of Constitutional Law in the United States of America. Boston: Little, Brown and Company, 1880.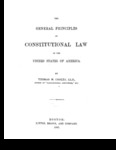 COinS