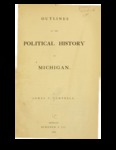 Files
Download Front Matter (2.1 MB)
Download Preface (1.7 MB)
Download Table of Contents (3.4 MB)
Download Chapter I: Preliminary (4.6 MB)
Download Chapter II: Early Explorations (5.6 MB)
Download Chapter III: Preparation for Western Occupation (5.5 MB)
Download Chapter IV: Early Settlements in Michigan (6.4 MB)
Download Chapter V: Detroit Under Cadillac (6.4 MB)
Download Chapter VI: French Rule (7.6 MB)
Download Chapter VII: Michigan Under British Military Rule (8.2 MB)
Download Chapter VIII: Michigan Under British Law (8.3 MB)
Download Chapter IX: Michigan Under the Northwest Territory and Indiana (7.8 MB)
Download Chapter X: Governor Hull's Civil Administration (7.2 MB)
Download Chapter XI: Governor Hull's Military Administration (9.3 MB)
Download Chapter XII: British Posession and American Reconquest of Michigan (7.4 MB)
Download Chapter XIII: Administration of Governor Cass (8.3 MB)
Download Chapter XIV: Last Years of the Territory (7.6 MB)
Download Chapter XV: Michigan Under the Constitution of 1835 (7.6 MB)
Download Chapter XVI: Michigan Under the Constitution of 1850 (6.8 MB)
Download Index (8.5 MB)
Description
Written in 1876 this work was originally intended as a sketch of the political development of the State of Michigan to be used for the purposes of its Centennial Committee. Chapters span Michigan political history beginning with early explorations by France and England, colonization, French and then British rule, military conquest, the administration of colonial governors, relations with adjacent territorial entities, the last years of the Territory and the first Constitution of 1835; and lastly, Michigan under the Constitution of 1850.
Keywords
Michigan, Michigan history, Michigan politics, Michigan constitutional history, Michigan government
Disciplines
Legal History
Recommended Citation
Campbell, James V. Outlines of the Political History of Michigan. Detroit: Schober & Co., 1876.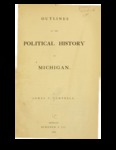 Included in
COinS