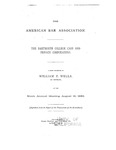 Description
The Dartmouth College Case and Private Corporations. Chancellor Kent, writing in 1826, thus expressed himself concerning the Dartmouth College case: "It contains one of the most full and elaborate expositions of the constitutional sanctity of contracts to be met with in any of the reports. The decision in that case did more than any other single act proceeding from the authority of the United States to throw .an impregnable barrier around all rights and franchises derived from the grant of government and to give solidity and inviolability to the literary, charitable, religious and commercial institutions of our country."
Publisher
Dando Printing and Publishing Co.
Keywords
Dartmouth College, Corporations, Charters, Regulation
Disciplines
Business Organizations Law | Constitutional Law | Contracts
Recommended Citation
Wells, William P. The Dartmouth College Case and Private Corporations. Philadelphia: Dando Printing & Publishing Co., 1886.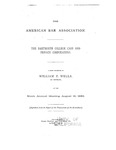 COinS