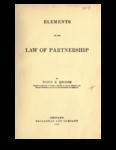 Files
Download Front Matter (736 KB)
Download Preface (382 KB)
Download Table of Contents (6.9 MB)
Download Table of Cases (13.6 MB)
Download Introduction (1.8 MB)
Download Chapter I: Definitions and Distinctions (10.4 MB)
Download Chapter II: For What Purposes a Partnership May Be Created (1.5 MB)
Download Chapter III: Who May Be Partners (4.6 MB)
Download Chapter IV: Of the Contract of Partnership and the Evidence Thereof (3.3 MB)
Download Chapter V: What Acts and Contracts Create a Partnership (22.1 MB)
Download Chapter VI: Of Some Incidents of Partnership (17.1 MB)
Download Chapter VII: Of the Rights and Duties of Partners Towards Each Other (7.7 MB)
Download Chapter VIII: Of Actions Between Partners (9.0 MB)
Download Chapter IX: Of the Powers of Partners (12.7 MB)
Download Chapter X: Who Are Bound by the Acts of a Partner (7.5 MB)
Download Chapter XI: Of the Liability of the Firm for the Acts of Its Agents and Servants (340 KB)
Download Chapter XII: Of the Nature and Extent of the Liability of Partners (4.8 MB)
Download Chapter XIII: Of Actions By and Against the Firm (2.7 MB)
Download Chapter XIV: Of the Termination of the Partnership (7.6 MB)
Download Chapter XV: Of Notice of the Dissolution (4.3 MB)
Download Chapter XVI: Of the Effect of Dissolution Upon the Powers of Partners (5.1 MB)
Download Chapter XVII: Of Special Agreements Between the Partners at Dissolution (1.5 MB)
Download Chapter XVIII: Of the Lien of Partners (2.5 MB)
Download Chapter XIX: Of the Application of the Partnership Assets (10.7 MB)
Download Chapter XX: Of the Final Accounting (3.0 MB)
Download Chapter XXI: Of Limited Partnerships (2.3 MB)
Download Appendix A & B (44.0 MB)
Description
Several years ago the writer printed for the use of his class a brief course of lectures on Partnership. A wider demand for them having sprung up, they have been revised and reprinted in the hope that they may be useful to students elsewhere. They pretend to be nothing more than the mere elements of the subject, and the endeavor has been to keep them in small compass. The citation of authorities has been purposely limited to the leading and most readily accessible cases, and those cited have been selected rather as illustrations of the text than as authorities for it. Much statement of cases in the text has been avoided, because the lectures were designed to be used and were in fact used in connection with a volume of selected cases upon the subject. It is assumed that the study of Agency will precede that of Partnership, and some knowledge of the former subject has been constantly taken for granted. If the style at times seems to be didactic, the circumstances of the original composition will serve as an explanation.
The law of Partnership, of which we are now to begin the study, is one of the ·most interesting and important branches of commercial law. It appropriately follows the law of Agency, of which it is often said to be a part. It belongs to that class of personal relations, heretofore spoken of, which are created, not by law, but by the contract of the parties.
Publisher
Callaghan and Company
Keywords
Casebooks, Partnerships, University of Michigan Law School, Law professors, Curriculum
Disciplines
Agency | Business Organizations Law | Commercial Law | Legal Education
Recommended Citation
Mechem, Floyd R. Elements of the Law of Partnership. Chicago: Callaghan & Company, 1896.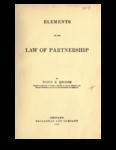 COinS