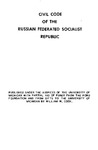 Files
Download Front matter & Translators' Preface (174 KB)
Download Part I: General Provisions (930 KB)
Download Part II: Law of Ownership (728 KB)
Download Part III: Law of Obligations (3.2 MB)
Download Part IV: Copyright (451 KB)
Download Part V: Law of Discovery (26 KB)
Download Part VI: Law of Invention (89 KB)
Download Part VII: Law of Inheritance (363 KB)
Download Part VIII: Capacity of Foreigners and Stateless Person to Have Rights and Obligations; Application of the Civil Laws of Foreign States and of International Treaties and Agreements (82 KB)
Download Appendix: Original Russian Version of the 1964 Civil Code (4.0 MB)
Description
This book is an English translation of the Soviet Civil Code as published in Sovetskaia Iustitsiia in 1964. This book also includes the Russian original.
Publisher
University of Michigan Law School
Keywords
Soviet Union, Russia, Civil Codes, Translations
Disciplines
Civil Law | Comparative and Foreign Law | Legislation
Recommended Citation
Gray, Whitmore, co-translator. Civil Code of the Russian Soviet Federated Socialist Republic. R. Stults, co-translator. Ann Arbor: Univ. of Michigan Law School, 1965.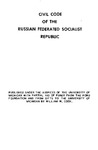 COinS