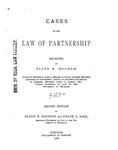 Files
Download Front Matter (201 KB)
Download Table of Contents (762 KB)
Download Table of Cases (675 KB)
Download Chapter I: What is a Partnerhsip (6.6 MB)
Download Chapter II: For What Purposes Organized (2.3 MB)
Download Chapter III: Who May Be Partners (4.6 MB)
Download Chapter IV: What Acts and Contracts Create Partnership (19.5 MB)
Download Chapter V: Nature of Partner's Interest in Property (6.1 MB)
Download Chapter VI: Firm Name and Good Will (7.1 MB)
Download Chapter VII: Rights and Duties of Partners Towards Each Other (4.6 MB)
Download Chapter VIII: Actions Between Partners (7.9 MB)
Download Chapter IX: Powers of Partners (8.8 MB)
Download Chapter X: Who Is Liable for the Acts of a Partner (8.3 MB)
Download Chapter XI: Of the Nature and Extent of a Partner's Liability (2.4 MB)
Download Chapter XII: Of Dissolution and Notice (10.1 MB)
Download Chapter XIII: Of the Consequences of Dissolution (10.5 MB)
Download Chapter XIV: Agreements Between Partners at Dissolution Respecting Payment of Debts (7.3 MB)
Download Chapter XV: Application of Assets to Claims of Creditors (17.3 MB)
Download Chapter XVI: Distribution of Assets Between Partners (1.2 MB)
Download Chapter XVII: Limited Partnerships (3.6 MB)
Download Index (1.9 MB)
Description
A casebook with selected cases to aid the teaching of partnership law.
Publisher
Callaghan & Company
Keywords
Partnerships, Property, Property interests, Firms, Liability, Dissolution, Notice, Debts, Claims, Assets, Limited partnerships
Disciplines
Business Organizations Law | Legal Education
Recommended Citation
Mechem, Floyd R. Cases on the Law of Partnership. 2nd ed. F. L. Sage, co-author. Chicago: Callaghan & Company, 1903.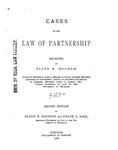 COinS