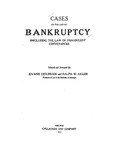 Files
Download Front Matter (465 KB)
Download Preface (524 KB)
Download Table of Contents (1.1 MB)
Download Chapter I, Section I: Jurisdiction, Of the Subject Matte (8.7 MB)
Download Chapter I, Section II: Jurisdiction, Of Persons (12.3 MB)
Download Chapter II, Section I: Prerequisites to Adjudication, In Voluntary Proceedings (4.3 MB)
Download Chapter II, Section II: Prerequisites to Adjudication, In Involuntary Proceedings (58.5 MB)
Download Chapter III, Section I: Administration, Receiver (5.7 MB)
Download Chapter III, Section II: Administration, Provable Claims (19.5 MB)
Download Chapter III, Section III: Administration, The Trustee (36.0 MB)
Download Chapter III, Section IV: Administration, Exemptions (6.7 MB)
Download Chapter IV: Compositions (10.2 MB)
Download Chapter V: Discharge (10.8 MB)
Download Appendix (22.8 MB)
Description
This collection of cases is the result of several years' work in the class-room by both of the editors. It is obvious that there are difficulties in the teaching of a subject based entirely on a statute, especially in the years immediately following the adoption of the statute, when its provisions have not yet been passed on by the courts; now, however, a considerable body of authoritative judicial interpretation of the Bankruptcy Act of 1898 has grown up, and it is hoped that the cases contained in this volume will serve to show the effective structure that has been constructed on the foundation of the Act.
Publisher
Callaghan & Company
Keywords
Casebooks, Bankruptcy, Cases, University of Michigan Law School, Law students, Curriculum, Bankruptcy Act of 1898
Disciplines
Bankruptcy Law | Legal Education
Recommended Citation
Holbrook, Evans. Cases on the Law of Bankruptcy: Including the Law of Fraudulent Conveyances. R. W. Aigler, co-author. Chicago: Callaghan & Company, 1915.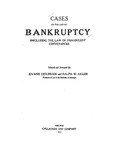 Included in
COinS