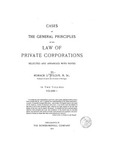 Files
Download Front Matter (361 KB)
Download Preface (529 KB)
Download Table of Contents (9.2 MB)
Download Table of Reported Cases (4.8 MB)
Download Part I: The Idea of a Corporation (55.5 MB)
Download Part II: The Body Corporate (140.0 MB)
Download Part III: The Corporation as a Subject and Source of Rights and Obligations (56.3 MB)
Description
This work is designed to furnish those interested in the study of Corporation Law, -whether practitioner, teacher or student, - such material from the original sources, and in such order, as will show how reason and experience have dealt with the subject. Effort has been made in the selection to secure the best expression of the underlying reason or theory; to place these in such order as to develop, in a natural way, the general theory of Corporation Law, set forth in the table of contents; to insert such notes as will present a more comprehensive view of some of the topics; and to furnish, in chronological order, such a list of cases bearing upon the principles as will enable the investigator to make a reasonably complete study of the same.
Publisher
The Bowen-Merrill Company
City
Indianapolis, Indiana
Keywords
Casebooks, Corporations, Cases, Corporate governance, Law students, Curriculum
Disciplines
Business Organizations Law | Legal Education
Recommended Citation
Wilgus, Horace L. Cases on the General Principles of the Law of Private Corporations, vol. 1. Indianapolis, Ind.: The Bowen-Merrill Company, 1902.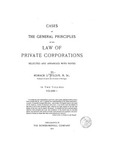 COinS