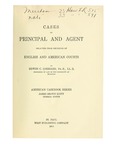 Files
Download Front Matter (395 KB)
Download Preface (3.3 MB)
Download Table of Contents (1.5 MB)
Download Table of Cases (3.3 MB)
Download Part I, Chapter I: Definition and Nature of the Relation (10.3 MB)
Download Part I, Chapter II: The Parties to the Relation (5.0 MB)
Download Part I, Chapter III: The Purposes of the Relation (7.3 MB)
Download Part I, Chapter IV: Creation of the Relation (30.0 MB)
Download Part I, Chapter V: Termination of the Relation (13.4 MB)
Download Part II, Chapter I: Nature and Extent (25.4 MB)
Download Part II, Chapter II: Construction of the Authority (3.8 MB)
Download Part II, Chapter III: Execution of the Authority (13.0 MB)
Download Part II, Chapter IV: Delegation of the Authority (9.0 MB)
Download Part III, Chapter I: Duties and Liabilities of the Agent to His Principal (12.9 MB)
Download Part III, Chapter II: Duties and Liabilities of Principal to Agent (6.3 MB)
Download Part III, Chapter III: Liability of the Agent to the Third Person (7.8 MB)
Download Part III, Chapter IV: Liability of Third Person to the Agent (3.0 MB)
Download Part III, Chapter V: Liability of Principal to Third Person (10.2 MB)
Download Part III, Chapter VI: Liability of the Third Person to the Principal (7.3 MB)
Download Part IV, Chapter I: The Form (2.9 MB)
Download Part IV, Chapters II & III: The Parties to the Action & Evidence of the Agency (11.1 MB)
Download Part IV, Chapter IV: Trial - Province of Court and Jury (1.4 MB)
Download Part IV, Chapter V: Judgment and Damages (1.1 MB)
Download Index (7.2 MB)
Description
It is a striking proof of the fact that Agency is a modern subject in the law that Blackstone, in his Commentaries on the Laws of England, does not mention the subject by name, and barely makes a four-line reference to one sort of agent in his classification of servants. The old ca~es do, of course, sometimes deal with pure agency questions, but the agent is usually referred to as a servant or a factor, and the questions in issue are generally settled upon some principle of the law of Master and Servant. Agency is essentially a business- relation; hence its modernness, if that term may be permitted; hence, also, the singular fact that until within very few years courts treated it as a broadened service, involving wider discretion, and failed to see that its main difference from service is that it deals with a relation for a very different purpose-in other words, that the difference is in kind even more than in degree.
To an extent the law of Principal and Agent is an outgrowth of the law of Master and Servant. The doctrine of respondeat superior is most active in both. The old cases of Master and Servant are therefore in one portion of the field of Agency valuable and illuminating, and are equally valuable to illustrate either relation; but they deal to a considerable extent with questions of tort liability as to third persons, and of contract and tort between the primary parties to the relation, and these are far from being the most important parts of the law of Agency. A casebook on Agency, then, if it is well proportioned, will be made up of modern ca es far more than will a work on Property, for example, or on Contracts in general. The present work contain many early cases of hi torical importance, some involving Agency, but more turning on questions arising out of the relation of Master and Servant. Very largely, however, selections have been made from modern cases, in which the courts are dealing with real agency matters.
Keywords
Agency, Relationship, Master and servant, Principals, Authority, Duties, Actions, Liabilities
Disciplines
Agency | Legal Education
Recommended Citation
Goddard, Edwin C. Cases on Principal and Agent, Selected from Decisions of English and American Courts. James Brown Scott, general editor. American Casebook Series. St. Paul, Minn.: West, 1914.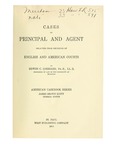 Included in
COinS