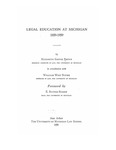 Files
Download Front Matter (202 KB)
Download Foreward by Dean E. Blythe Stason (272 KB)
Download Preface (160 KB)
Download Chronology of Principal Events (298 KB)
Download Table of Contents (1.1 MB)
Download Chapter I: The Catholepistemiad: Judge Woodward Looks to the Future (4.8 MB)
Download Chapter II: The Law Department: Why and to What End (1.8 MB)
Download Chapter III: The Deanship and Increasing Burdens of Administration (9.2 MB)
Download Chapter IV: The Law Teacher: Professors, Lecturers, Quizmasters, and Instructors (8.5 MB)
Download Chapter V: The Law Taught and the Course of Instruction (8.4 MB)
Download Chapter VI: Teaching Techniques: Problems, Lectures, Texts, and Cases (4.6 MB)
Download Chapter VII: Training for Advocacy: Courts, Clubs, and Public Speaking (2.5 MB)
Download Chapter VIII: A National Law School: Enrollment, Costs, Fees, and Scholarships (1.8 MB)
Download Chapter IX: The Law Student: Terms of Admission and Grduation (3.7 MB)
Download Chapter X: The Law School and Mr. Cook (2.3 MB)
Download Chapter XI: Legal Research and Contributions to Legal Literature (3.2 MB)
Download Chapter XII: The Law Library: Books, Serials, and Manuscripts (3.0 MB)
Download Plates (586 KB)
Download Tables, Charts, and Documents for Chapter I (1.1 MB)
Download Tables, Charts, and Documents for Chapter II (5.4 MB)
Download Tables, Charts, and Documents for Chapter III (2.2 MB)
Download Tables, Charts, and Documents for Chapter IV (1.2 MB)
Download Tables, Charts, and Documents for Chapter V (12.9 MB)
Download Tables, Charts, and Documents for Chapter VI (3.3 MB)
Download Tables, Charts, and Documents for Chapter VII (1.7 MB)
Download Tables, Charts, and Documents for Chapter VIII (1.8 MB)
Download Tables, Charts, and Documents for Chapter IX (3.7 MB)
Download Tables, Charts, and Documents for Chapter X (1.8 MB)
Download Tables, Charts, and Documents for Chapter XI (15.1 MB)
Download Tables, Charts, and Documents for Chapter XII (861 KB)
Download Index to Names of Persons (1.1 MB)
Description
First opening its doors in 1859, the University of Michigan Law School has now accumulated a full century of experience in educating young men and young women for the practice of law. Two years ago, the law faculty, taking note of the approach of the Centennial year, established a research project under the financial auspices of the William W. Cook Endowment Fund, in order to engage in a serious study of all aspects of the school's activities down the years, and to prepare a complete and definitive report on this first century of history. In charge of the project and supervising it throughout has been Professor William Wirt Blume, a long-time member of the law faculty and a legal historian of ripened experience and repute. He was fortunate in obtaining the services of Mrs. Elizabeth Brown, a law graduate who, as the research associate in immediate charge, has displayed great skill and infinite thoroughness in assembling the history, preparing the charts, graphs and statistical compilations, and writing the manuscript for the volume.
Mrs. Brown has explored all of the pertinent records of the school and its activities, and there are at least some records from the very beginning. Her researches have covered the proceedings of the Board of Regents, the minutes of the law faculty (available from 1895 to date), committee reports of the law faculty, annual reports of the Dean to the President and Board of Regents, annual announcements of the Law School from 1883 to date, the catalogue (sometimes called the calendar) of the University of Michigan, 1859 to date, and all of the internal student and other records of the Law School itself from the date of opening the doors in October of 1859. These have served as the basic materials for this volume.
Publisher
University of Michigan Law School
Keywords
University of Michigan Law School, History, Law schools, Cook (William W.), Law school deans, Curriculum, Law professors, Law students
Disciplines
Legal Education | Legal History | Legal Profession
Recommended Citation
Brown, Elizabeth G. Legal Education at Michigan, 1859-1959. Ann Arbor: University of Michigan Law School, 1959.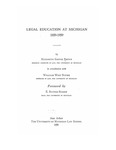 COinS