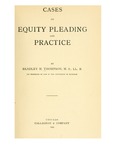 Files
Download Front Matter (323 KB)
Download Preface (310 KB)
Download Table of Contents (548 KB)
Download Cases Reported (901 KB)
Download Chapter I: Persons Capable of Suing and Being Sued in Equity (12.4 MB)
Download Chapter II: Parties to a Suit in Equity (14.8 MB)
Download Chapter III: Form and Requisites of a Bill in Equity (11.1 MB)
Download Chapter IV: Proceedings on Behalf of Plaintiff (10.8 MB)
Download Chapter V: Proceedings on Behalf of Defendant (7.2 MB)
Download Chapter VI: Proceedings on Behalf of Defendant [Continued] (13.5 MB)
Download Chapter VII: Further Proceedings on Part of Plaintiff (2.6 MB)
Download Chapter VIII: Decrees (6.2 MB)
Download Chapter IX: Amendments, Bill of Review, Ne Exeat, Production of Papers, Abatement, Etc. (8.1 MB)
Download Chapter X: Cross Bill, Interpleader, Perpetuate Testimony, Etc. (6.4 MB)
Download Index (1.3 MB)
Description
The cases contained in this volume have been selected with a view of assisting both the student and the instructor, with illustration of the practical application of the general principle and rule of equity pleading and practice. Only so much of the statement of fact and of the opinion of the court have been retained in each case as is sufficient to make the decision upon the question of pleading before the Court intelligible and clear. As far as possible all padding has been excluded. Littleton ha aid: "And know, my son, that it is one of the most honorable, laudable, and profitable things in our law to have the science of well pleading; and, therefore, I counsel thee especially to employ thy courage and care to learn this." We hope that this collection of cases will be of some practical assistance to the teacher in giving instruction in this very difficult branch of the law and that it will stimulate the courage of the student to master the "science of well pleading."
Publisher
Callaghan & Company
Keywords
Casebooks, Equity, Pleading, Legal practice, Trials, Parties
Disciplines
Civil Procedure | Legal Education | Litigation
Recommended Citation
Thompson, Bradley M. Cases on Equity Pleading and Practice. Chicago: Callaghan & Company, 1903.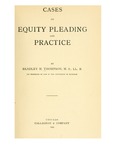 COinS