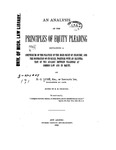 Files
Download Front Matter (97 KB)
Download Preface (4.9 MB)
Download Table of Contents (1.1 MB)
Download Chapter I: Of Pleading in General (5.7 MB)
Download Chapter II: Of the Original Bill in Equity (4.8 MB)
Download Chapter III: Of Secondary Bills (3.7 MB)
Download Chapter IV: Pleas and Demurrers (5.4 MB)
Download Chapter V: Answers (9.5 MB)
Download Chapter VI: The Replication (2.8 MB)
Download Appendix & Index (4.1 MB)
Description
Since the publication in 1823 by Mr. D. G. Lube of his Principles of Equity Pleading that work has been recognized by the profession as a standard treatise upon that subject. The two generations of lawyers and judges who have come and gone since Lube wrote have contributed little to the a~t and science of equity pleading, so that to-day Lube's work is the best in existence. In this edition of the second part of his work the Editor has added little to the text of importance and has omitted substantially nothing. The only object he had in view in preparing this edition was to obtain a text suitable for the use of the student.
Publisher
Courier Printing
Keywords
Pleadings, Equity, Remedies, Trials
Disciplines
Civil Procedure | Common Law
Recommended Citation
Thompson, Bradley M., editor. An Analysis of the Principles of Equity Pleading. D. G. Lubé, author. Ann Arbor, Mich.: Courier Printing, 1890.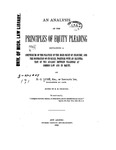 Included in
COinS