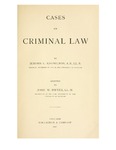 Title
Files
Download Front Matter (341 KB)
Download Preface (286 KB)
Download Table of Contents (1010 KB)
Download Cases Reported (837 KB)
Download Chapter I: Definition and General Nature of Crime (12.7 MB)
Download Chapter II: Conditions of Criminality (18.2 MB)
Download Chapter III: The Overt Act (3.3 MB)
Download Chapter IV: Parties to Crimes (7.8 MB)
Download Chapter V: Merger of Offenses (2.6 MB)
Download Chapter VI: Offenses Against the Government and Against the Law of Nations (283 KB)
Download Chapter VII: Offenses Against the Person (12.8 MB)
Download Chapter VIII: Offenses Against the Person [continued] (4.3 MB)
Download Chapter IX: Offenses Against the Person [continued] (11.4 MB)
Download Chapter X: Offenses Against the Habitation (8.5 MB)
Download Chapter XI: Offenses Against Property (18.5 MB)
Download Chapter XII: Offenses Against Public Justice (5.1 MB)
Download Chapter XIII: Offenses Against Public Peace (6.0 MB)
Download Chapter XIV: Offenses Against Morals and Religion (9.6 MB)
Download Chapter XV: Jurisdiction (13.3 MB)
Download Index (2.5 MB)
Description
This book of cases is prepared with the idea of assisting the student in his study of the substantive law of crimes. It is thought, however that the topical arrangement made, with an illustrative case under each topic may occasionally give the practitioner a leader over some troublesome path of investigation.
Publisher
Callaghan & Company
Keywords
Crimes, Felonies, Casebooks, Misdemeanors, Homicide, Arson, Rape, Property, Morality, Burglary, Robbery
Recommended Citation
Knowlton, Jerome C. Cases on Criminal Law. J. W. Dwyer, co-author. Chicago: Callaghan & Company, 1902.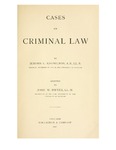 Included in
COinS