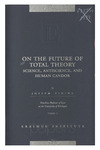 Description
Since we will be talking about science and antiscience, let me begin by recalling the work of Erasmus Darwin, grandfather of Charles Darwin.
Erasmus was a naturalist like his grandson. He was distinguished in his time and is well known still in his own right. But he wrote scientific works in verse, even what might be called poems. One of them was The Botanic Garden, and the best known and most effective part of it was entitled The Loves of the Plants. It was full of imagery from the classics and from biology, full of metaphor and play. Our noticing this blending of science and poetry and the absence of any sense of alienness one from the other, under the name Erasmus, may be the best way to start our inquiry here.
Keywords
total theory, science and antiscience, cosmology, eugenics, human experimentation, science and morality
Disciplines
Philosophy of Science
Recommended Citation
Vining, Joseph. On the Future of Total Theory: Science, Antiscience, and Human Candor. Erasmus Institute Papers, 1999-01. [Notre Dame, Ind.]: Erasmus Institute, 1998.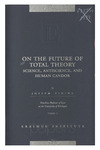 Included in
COinS