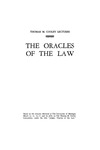 Title
Files
Download Front Matter and Introduction (477 KB)
Download I - The Growth and Decline of English Case Law (4.8 MB)
Download II - The Heritage from Roman Law (2.3 MB)
Download III - Germany's Commitment to Legal Science (5.7 MB)
Download IV - The French Deviation (5.5 MB)
Download V - The Modern French Reaction (2.8 MB)
Download VI - Germany's Case Law Revolution (3.4 MB)
Download Postscript, Appendix, and Index (707 KB)
Description
Based on the lectures delivered at The University of Michigan March 12, 13, 16, 17, and 18, 1959, on The Thomas M. Cooley Lectureship, under the title "Judges: Oracles of the Law."
This study will examine the nature and extent of the contribution that case law has made to the legal systems of England, Rome, France, and Germany. The emphasis will be historical, but the object will be to show the lasting effects of historical experience on modern usage and attitudes.
Publisher
University of Michigan Law School
Keywords
role of the judiciary, judicial roles, English case law, Roman law, German Law, French Law, German case law, judicial decision-making
Disciplines
Comparative and Foreign Law | Courts | Judges | Legal History
Recommended Citation
Dawson, John P. The Oracles of the Law. Thomas M. Cooley Lectures. Ann Arbor: University of Michigan Law School, 1968.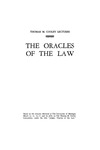 COinS