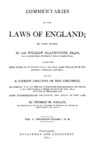 Files
Download Front Matter (178 KB)
Download Preface-- With Some Considerations Regarding the Study of the Law. (2.5 MB)
Download Author's Preface & Postscript. (96 KB)
Download Contents of This Volume. (85 KB)
Download Analysis of the Contents of This Volume. (1.7 MB)
Download Reigns of the Monarchs. (64 KB)
Download Table of Principal Abbreviations. (548 KB)
Download Introduction. Of the Study, Nature and Extent of the Laws of England. Section I. On the Study of the Law. (1.8 MB)
Download Introduction Section II. Of the Nature of Laws in General. (1.6 MB)
Download Introduction Section III. Of the Laws of England. (2.1 MB)
Download Introduction Section IV. Of the Countries Subject to the Laws of England. (1.7 MB)
Download Book I. Of the Rights of Persons. Chapter I. Of the Absolute Rights of Individuals. (1.6 MB)
Download Book I Chapter II. Of the Parliament. (2.9 MB)
Download Book I Chapter III. Of the King and His Title. (1.5 MB)
Download Book I Chapter IV. Of the King's Royal Family. (579 KB)
Download Book I Chapter V. Of the Councils Belonging to the King. (375 KB)
Download Book I Chapter VI. Of the King's Duties. (279 KB)
Download Book I Chapter VII. Of the King's Prerogative. (2.6 MB)
Download Book I Chapter VIII. Of the King's Revenue. (3.1 MB)
Download Book I Chapter IX. Of Subordinate Magistrates. (1.8 MB)
Download Book I Chapter X. Of the People, Whether Aliens, Denizens, or Natives. (732 KB)
Download Book I Chapter XI. Of the Clergy. (1.3 MB)
Download Book I Chapter XII. Of the Civil State. (823 KB)
Download Book I Chapter XIII. Of the Military and Maritime States. (1.0 MB)
Download Book I Chapter XIV. Of Master and Servant. (1.2 MB)
Download Book I Chapter XV. Of Husband and Wife. (1.8 MB)
Download Book I Chapter XVI. Of Parent and Child. (939 KB)
Download Book I Chapter XVII. Of Guardian and Ward. (762 KB)
Download Book I Chapter XVIII. Of Corporations. (1.3 MB)
Download Book II. Of the Rights of Things. Chapter I. Of Property in General. (821 KB)
Download Book II Chapter II. Of Real Property-- and First, of Corporeal Hereditaments. (379 KB)
Download Book II Chapter III. Of Incorporeal Hereditaments. (1.7 MB)
Download Book II Chapter IV. Of the Feudal System. (947 KB)
Download Book II Chapter V. Of the Ancient English Tenures. (1.1 MB)
Download Book II Chapter VI. Of the Modern English Tenures. (1.4 MB)
Download Book II Chapter VII. Of Freehold Estates of Inheritance. (1.2 MB)
Download Book II Chapter VIII. Of Freeholds, Not of Inheritance. (1.5 MB)
Download Book II Chapter IX. Of Estates Less than Freehold. (1.2 MB)
Download Book II Chapter X. Of Estates Upon Condition. (1002 KB)
Download Book II Chapter XI. Of Estates in Possession, Remainder and Reversion. (1.1 MB)
Download Book II Chapter XII. Of Estates in Severalty, Joint-tenancy, Coparcenary and Common. (1.0 MB)
Download Book II Chapter XIII. Of the Title to Things Real, in General [lacks pages 198-200] (382 KB)
Download Book II Chapter XIV. Of Title by Descent. (2.4 MB)
Download Book II Chapter XV. Of Title by Purchase, and First by Escheat. (1008 KB)
Download Book II Chapter XVI. Of Title by Occupancy. (377 KB)
Download Book II Chapter XVII. Of Title by Prescription. (295 KB)
Download Book II Chapter XVIII. Of Title by Forfeiture. (1.3 MB)
Download Book II Chapter XIX. Of Title by Alienation. (786 KB)
Download Book II Chapter XX. Of Alientation by Deed. (3.2 MB)
Download Book II Chapter XXI. Of Alientation by Matter of Record. (1.1 MB)
Download Book II Chapter XXII. Of Alientation by Special Custom. (449 KB)
Download Book II Chapter XXIII. Of Alientation by Devise. (1.1 MB)
Download Book II Chapter XXIV. Of Things Personal. (270 KB)
Download Book II Chapter XXV. Of Property in Things Personal. (772 KB)
Download Book II Chapter XXVI. Of Title to Things Personal-- by Occupancy (589 KB)
Download Book II Chapter XXVII. Of Title by Prerogative, and Forfeiture. (746 KB)
Download Book II Chapter XXVIII. Of Title by Custom. (541 KB)
Download Book II Chapter XXIX. Of Title by Succession, Marriage and Judgment. (762 KB)
Download Book II Chapter XXX. Of Title by Gift, Grant, and Contract. (2.4 MB)
Download Book II Chapter XXXI. Of Title by Bankruptcy. (1.2 MB)
Download Book II Chapter XXXII. Of Title by Testament and Administration. (2.3 MB)
Download Appendix. (893 KB)
Description
"The Commentaries of Mr. Justice Blackstone have now for more than a century been the wonder and delight of persons whose curiosity or interest have led them to investigate the constitution and laws of Great Britain, the condition of things from which they grew, and the reasons upon which they rest….
"In preparation of the present edition it has not been thought unimportant to call attention from time to time to the differences which exist between the constitutions of Great Britain and of the United States. Some of those differences, however, are too subtle to be put upon paper, and spring from differences in society which are sensibly felt but difficult of description….
"What is new in this edition has been added in the same spirit that has governed the selections from the English notes. As students make more use of this work than practicing lawyers, their information and benefit have been kept mainly in view but references have been made to judicial decisions on many practical questions, and it is hoped they will be found not without their convenience to the profession generally." --Thomas M. Cooley, Ann Arbor, … 1870
Publisher
Callaghan and Cockcroft
Keywords
William Blackstone, Blackstone's Commentaries, Laws of England, Laws of the United States
Disciplines
Common Law | Comparative and Foreign Law | Legal History | Legal Writing and Research
Recommended Citation
Blackstone, William. Commentaries on the Laws of England. In Four Books. Chicago: Callaghan and Cockcroft, 1871.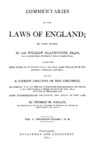 COinS