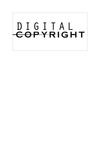 Files
Download Front matter & Introduction (191 KB)
Download Chapter 1: Copyright Basics (121 KB)
Download Chapter 2: The Art of Making Copyright Laws (137 KB)
Download Chapter 3: Copyright and Compromise (195 KB)
Download Chapter 4: A Thought Experiment (122 KB)
Download Chapter 5: Choosing Metaphors (137 KB)
Download Chapter 6: Copyright Lawyers Set Out to Colonize Cyberspace (136 KB)
Download Chapter 7: Creation and Incentives (132 KB)
Download Chapter 8: "Just Say Yes to Licensing!" (135 KB)
Download Chapter 9: The Bargaining Table (177 KB)
Download Chapter 10: The Copyright Wars (143 KB)
Download Chapter 11: Copyright Law in the Digital Millennium (116 KB)
Download Chapter 12: Revising Copyright Law for the Information Age (162 KB)
Download Chapter 13: The Copyright Bargain (96 KB)
Download Afterword, Glossary & Index (162 KB)
Description
In 1998, copyright lobbyists succeeded in persuading Congress to enact laws greatly expanding copyright owners' control over individuals' private uses of their works. The efforts to enforce these new rights have resulted in highly publicized legal battles between established media and new upstarts.
In this book, law professor Jessica Litman questions whether copyright laws crafted by lawyers and their lobbyists really make sense for the vast majority of us. Should every interaction between ordinary consumers and copyright-protected works be restricted by law? Is it practical to enforce such laws, or expect consumers to obey them? What are the effects of such laws on the exchange of information in a free society?
She argues for reforms of the 1998 copyright law that reflect common sense and the way people actually behave in their daily digital interactions.
This paperback edition includes an afterword that comments on later developments, such as the end of the Napster story, the rise of peer-to-peer file sharing, the escalation of a full-fledged copyright war, the filing of lawsuits against thousands of individuals, and the June 2005 Supreme Court decision in the Grokster case.
Publisher
Prometheus Books
Keywords
Copyright law, Intellectual property, Creators, Internet, Computers, Copyright reform, History, Fair use, Copyright owners, Copyright infringement, Copyright system
Disciplines
Computer Law | Intellectual Property Law | Internet Law | Legislation
Recommended Citation
Litman, Jessica D. Digital Copyright. 2nd ed. Amherst, N.Y.: Prometheus Books, 2006.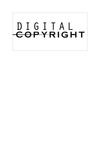 COinS