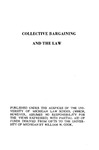 Files
Download Front Matter, Preface, and Table of Contents (225 KB)
Download Opening Remarks (340 KB)
Download The National Labor Relations Act and Collective Bargaining (1.7 MB)
Download Panel Discussion: The National Labor Relations Act and Collective Bargaining (1.3 MB)
Download Industrial Stability and Freedom of Choice (615 KB)
Download Panel Discussion: Industrial Stability and Freedom of Choice (1.8 MB)
Download The Legal Nature of Collective Bargaining Agreements (2.2 MB)
Download Panel Discussion: The Legal Nature of Collective Bargaining Agreements (1.5 MB)
Download The National Labor Relations Act and the Collective Agreement (611 KB)
Download The Law of the Collective Agreement (1.2 MB)
Download Panel Discussion: The Law of the Collective Agreement (1.1 MB)
Download Arbitration as a Process (715 KB)
Download Panel Discussion: The Emerging "Industrial Jurisprudence" (1.8 MB)
Description
Since 1948 the Law School of The University of Michigan, as a part of its program of public service, has sponsored a series of summer institutes to provide a medium for high-level discussion of legal problems in areas of public concern. In 1950 the subject of the Summer Institute was "The Law and Labor-Management Relations." In 1958 it seemed desirable again to turn to this important field, and the subject selected was "Collective Bargaining and the Law."
The 1958 Institute brought together a distinguished group of experts in labor relations law and produced a series of papers and comment which, we are confident, will make a substantial contribution in the development of the law relating to collective bargaining. To our principal speakers, commentators, and panel participants we express our gratitude for their generous contribution of time and effort. We acknowledge also, with very great appreciation, our indebtedness to the University Summer Session and to Gilbert A. Montague, Esq., of the New York bar, whose encouragement and continuing financial support have made it possible to conduct the Summer Institute programs.
The 1958 Institute was sponsored jointly by the Michigan Law School and the Institute of Labor and Industrial Relations (The University of Michigan-Wayne State University).
Publisher
University of Michigan Law School
Keywords
Summer Institute on International and Comparative Law, labor and employment, collective bargaining, unions, labor relations, National Labor Relations Act, industrial stability, collective agreements
Disciplines
Dispute Resolution and Arbitration | Labor and Employment Law
Recommended Citation
University of Michigan Law School, "Collective Bargaining and the Law" (1959). Summer Institute on International and Comparative Law. 8.
https://repository.law.umich.edu/summer_institute/8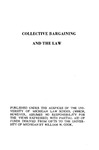 COinS